SL Green, City Square Off With Argent at Community Board
---
---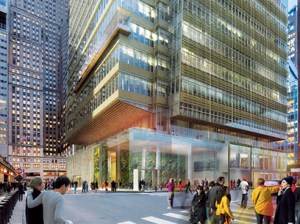 Forget Caeser's Palace. The best recent slugfest took place last week at the main branch of the New York Public Library on 42nd Street.
City officials and SL Green Realty Corp.  executives argued for the proposed 1 Vanderbilt tower and the five-block Vanderbilt Corridor rezoning during a three-hour Uniform Land Use Review Procedure hearing before Manhattan Community Boards 5 and 6 last Monday night.
But representatives for Grand Central Terminal landlord Argent Ventures reiterated their staunch opposition to the proposal, which would rezone Vanderbilt Avenue between East 42nd and East 47th Streets and grant SL Green a special permit to build the 1,514-foot tower, during the session.
Despite Argent executives' criticisms, Department of City Planning Chairman Carl Weisbrod said the process of creating a larger Midtown East rezoning plan has "shifted into high gear" and called on the boards to recommend approval.
"We see this proposal as critical to ensuring a vibrant and enhanced East Midtown, which is something that the surrounding community and, indeed, the entire city needs," Mr. Weisbrod said. He noted that the proposal represents a "different approach" than last year's failed rezoning in part because of its treatment of SL Green's proposed public improvements. "These improvements would have to be undertaken at the developer's risk, and they would have to be completed before any of the bonus space would be occupied," he said.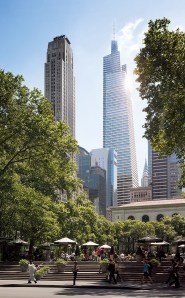 Both Mr. Weisbrod and SL Green CEO Marc Holliday attended the entire meeting, which included the scheduled time for public testimonials. Mr. Holliday led off a procession of five speakers for SL Green who outlined 1 Vanderbilt's architecture, sustainability features and the detailed plans for the $210 million in new corridors, waiting areas and entry points that company officials have pledged for the trains that use Grand Central. Speaking shortly after City Planning's Manhattan director Edith Hsu-Chen said that fewer than 5 percent of the area's commercial building stock is under 20 years old; Mr. Holliday noted the company's upgrade efforts at its 16 office properties in Midtown East and placed the proposal in a global context.
"Every day I talk to potential tenants who want to be in Midtown, but they can't find the Class A property that they need," Mr. Holliday said. "If we want this city to compete, it's clear we need more than just repositioned buildings."
But Argent Director of Development Eric Anderson gave a presentation of his own, in which he called the Vanderbilt Corridor plan "spot zoning" in light of the larger goals for the Midtown East area. He also questioned whether TD Bank's new 200,000-square-foot lease at 1 Vanderbilt actually constitutes an anchor tenant agreement in the proposed 1.6-million-square-foot tower. Despite city officials' contention that the plan enhances the Grand Central landlords' ability to sell the terminal's unused air rights, Mr. Anderson said the proposal "devastates our ability to transfer" and drew comparisons to last year's Midtown East proposal.
"You pointed out its faults and the city withdrew it; now the city is trying to rush it again," said Mr. Anderson, telling the audience that the proposal "favors a single corporate interest" rather than the city. "We're not saying, 'Reject this building.' We're saying, 'Reject this process.' "
During SL Green's presentation, company representative Marc Wolinsky of Wachtell, Lipton, Rosen and Katz called any potential lawsuits about the proposal "private claims by a private developer," which wouldn't be able to alter the rezoning. Later, Duane Loft of Boies, Schiller & Flexner, who has threatened a $1 billion suit over the proposal on behalf of Grand Central's landlords, said SL Green "should commit to pay the city back" in the event of any court-ordered damages.
Former DCP Manhattan director Vishaan Chakrabarti dismissed the Argent executive's claims as "hogwash," while former city corporation counsel Michael Hess said the proposal could alter "a process that has worked for 40 years."
The two community boards must make a recommendation on the proposal by Dec. 29, according to the DCP website, before it moves to review by the borough president, the City Planning Commission and its final up-or-down vote in the City Council. Once at the Council, local Council Member Daniel Garodnick will, in all likelihood, dictate how his fellow lawmakers vote on the rezoning because it's in his district. The second-term Council Member helped to derail last year's plan; although he praised many parts of this proposal, he stopped short of offering his full support.
"This project will be pointed to as a precedent," Mr. Garodnick said. "We need to clearly justify the trade of infrastructure of any density so that it may be used as a roadmap for ourselves and for our successors in evaluating the next proposal on Vanderbilt Avenue."