Reba Miller Officially Launches Commercial Arm, Closes Deal
---
---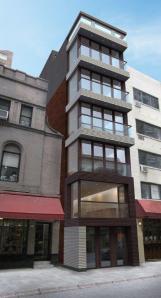 Reba Miller has officially launched her new commercial division after getting it off the ground in March, the firm announced.
The firm tied the announcement of the new division to the recent closing of its first commercial real estate deal—the sale of a 10,000-square-foot, six-story mixed-use building at 27 East 61st Street to Acadia Realty Trust. Ms. Miller's firm listed the property for $18.5 million. Ms. Miller declined to indicate the identity of the seller as well as the sale price.
At the end of 2011, Ms. Miller said she "gave up the broker ownership" of residential real estate brokerage R.P. Miller & Associates "to be employed by Core" in a two-year contract expiring last November. Ms. Miller became the senior managing director of sales at Core while her company "was just lying dormant."
This March, Ms. Miller left Core to relaunch her firm as RP Miller Realty Group. She kicked the old name to the curb because she felt it sounded like a law firm with the word "associates" at the end. With "realty" and "group" in the new name, there is no mistaking what her business is about.
Ms. Miller also established a new commercial division, tapping Jeff Karp to run it. The company's office is at 135 East 65th Street.
"I've been doing residential for 30 years," Ms. Miller told Commercial Observer. "I'm always challenging myself to do new things, to try new things." She felt encouraged to launch the commercial arm as clients were asking for help with their commercial real estate needs. "I felt this was a good time to jump into it and satisfy 1031 exchanges," Ms. Miller added.
The commercial division, which is only comprised of Mr. Karp thus far, is focused on marketing investment properties in New York City. Mr. Karp will also handle leasing.
Mr. Karp was previously involved in the direct underwriting and marketing of over $1 billion of commercial assets in his role at Stan Johnson Company. He has also worked at Newmark Grubb Knight Frank as a leasing broker and CBRE in investment sales.