Hugo Boss Ditches Starrett-Lehigh Building for FiDi
---
---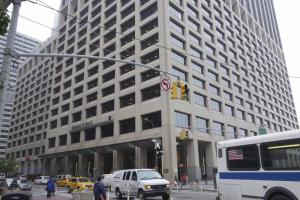 Hugo Boss is moving its North American headquarters from the Starrett-Lehigh Building at 601 West 26th Street to 73,690 square feet at 55 Water Street, Commercial Observer has learned.
The fashion giant will occupy the 53-story building's entire 48th floor, comprising 68,793 square feet, as well as a partial sublevel space of 4,897 square feet, CBRE announced, through a 15-year deal with $54-per-square-foot asking rents. The company plans to assume the new space in the second quarter of next year.
CBRE's David Caperna, Howard Fiddle, Evan Haskell, Bradley Gerla and Mary Ann Tighe represented the owner, New Water Street Corp., an entity controlled by The Retirement Systems of Alabama, in the deal. Greg Taubin of Savills Studley represented Hugo Boss in the deal. Neither Mr. Fiddle nor Mr. Taubin immediately responded to a request for comment.
"This relocation continues the accelerating trend of creative firms of all types moving Downtown," said George Acero, executive vice president and chief operating office of New Water Street Corp., in prepared remarks. "TAMI [or technology, advertising, media and information technology companies] and fashion companies are attracted to the excitement that is being generated downtown and 55 Water Street is ideal for these types of users because of its large, efficient floor plates, tremendous views, access to light and an abundance of in-building amenities."
As Commercial Observer recently reported, Hunter Roberts Construction Group, a construction services firm that works throughout New York, New Jersey and Pennsylvania, signed a lease in the 3.9-million-square-foot building, erected in 1972.
Tenants include GT Nexus, Standard & Poors, EmblenHealth, NYC's Department of Transportation, Chubb Insurance and Sullivan & Cromwell.