Wells Fargo and BNY Mellon Lead $412M Construction Loan for Durst West Side Rental
---
---
The Durst Organization scored a $411.5 million construction loan from a group of lenders led by Wells Fargo (WFC) and Bank of New York Mellon Corp. to finance the development of its tetrahedron-shaped rental tower at 625 West 57th Street, sources familiar with the deal told Mortgage Observer.
The loan, which closed last week, carries a term of four years with a one-year extension option and "smoking interest rates," one person familiar with the transaction said on the condition of anonymity.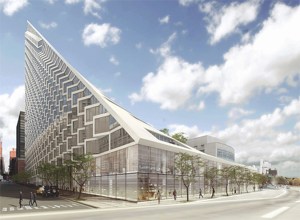 Wells Fargo took $110 million of the loan, while BNY Mellon, the syndication agent, took $111.5 million. PNC Bank, M&T Bank (MTB) and TD Bank also participated in the deal, taking $70 million, $60 million and $60 million, respectively, that person said.
Wells Fargo, BNY Mellon, PNC and M&T declined to comment. A TD spokesperson confirmed the bank's involvement in the loan.
"It was a complicated transaction and all parties cooperated to make something that was seemingly difficult relatively easy to get done," said Jordan Barowitz, director of external affairs for Durst.

The 709-unit apartment building, designed by Danish architect Bjarke Ingels, is set to top out at 450 feet on Friday, he said. The completed 80/20 project will total 800,000 square feet—reaching 43 stories at its peak—to become one of one of Manhattan's largest rental buildings. (Under the city's 80/20 Housing Program, 20 percent or more of a building's apartment units are reserved for low-income residents.)
Construction on the development, located on the Far West Side between 11th and 12th Avenues, began last year. The property, which some have called Durst's "pyramid tower," is due for completion in the first quarter of 2016. The finished building will contain ground-floor retail space and one entrance for all residents, as well as a 25-yard indoor swimming pool and a 25,000-square-foot indoor park, Mr. Barowitz said.
"We haven't set the rents yet, but we think at the top of the building we can touch $90 a square foot," he told MO.