Shanghai-Based Bank Renews Lease at 55 Broadway
---
---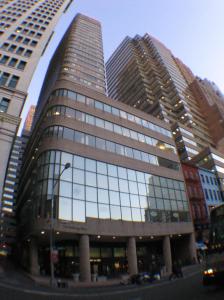 The Bank of Communications, a Shanghai-based institution and one of China's largest banks, has re-signed its lease for its penthouse space at 55 Broadway in Lower Manhattan.
First reported by Crain's New York Business, the Bank of Communications has secured a four-year lease that will allow the company to remain in its current 22,000-square-foot space. The bank now occupies the full 31st and 32nd floors.
CBRE's Brad Gerla and Zach Freeman represented Harbor Group, the building's owner, in negotiations.
CBRE and the Harbor Group could not immediately be reached for comment.
Crain's reported that asking rates for the space were in the mid-$50s per square foot.
Highland Capital Group also recently signed a lease at 55 Broadway. In a 10-year deal, it agreed to take roughly 6,500 square feet on the 21st floor. Other tenants in the tower include ProPublica, the Cancer Research Institute, CSA Group, Roosevelt and Cross and Fog Creek Software.
The building at 55 Broadway, which has 360,000 square feet of usable space and opened in 1983, was purchased by Harbor Group earlier this year in a high-profile sale. The company paid $157 million for the Financial District property.
According to The New York Post, Harbor Group International owns over 10.5 million square feet of commercial space.