Lower Manhattan: NYC's Media Center
---
---
Publishing companies have been departing for downtown from the more traditional Midtown and Midtown South submarkets and that trend seems to be picking up steam lately.
In a dramatic move, Condé Nast is preparing to relocate to 1 World Trade Center from 4 Times Square. 

"They're packing their stuff as we speak," said Jeremy Moss, the director of World Trade Center leasing at Silverstein Properties.
| | |
| --- | --- |
| Presented by AT&T | |
The publisher of Allure, Architectural Digest, Details, GQ, Lucky, The New Yorker, Vanity Fair and Vogue signed a deal with the Port Authority of New York & New Jersey and The Durst Organization in May 2011 for roughly 1 million square feet at the World Trade Center tower. 
In lower Manhattan, major media deals negotiated as of the second quarter of this year include Time Inc., Macmillan Science and Education, Library Journal and Latina Magazine, according to the Alliance for Downtown New York, which included print and digital publications as well as entertainment and multimedia production companies in the media category. Media relocations have accounted for more than 55 percent of relocations by square foot as of second-quarter 2014, in part due to the large commitment made by Time Inc.
Media companies as well as technology and advertising firms have been drawn to lower Manhattan's relatively low rents. In addition, there is increasing inventory downtown due to vacancies and newly built space, as well as the excitement of leasing brand new amenity-laden space. Some media companies, like Condé Nast, wanted to move their offices to be closer to where their workforce resides.
There have been a series of tax credits, waivers, reductions and abatements to incentivize companies to relocate downtown, although some brokers say the moves would be happening without them.
"The rents are compelling without tax incentives. It just makes it that much sweeter," said broker Brad Gerla of CBRE. He negotiated the New York Daily News and American Media leases in Edge Fund Advisors' 4 New York Plaza, a 1.1-million-square-foot building at Water and Broad Streets.
"Lower Manhattan has a great stock of Class A and B spaces, great transit access and culture, and has seen some rents at discounts to Midtown," said Kyle Kimball, the president of the New York City Economic Development Corporation. "We are in the process of retooling our incentives to make sure they are incentivizing the right behavior in the right locations."
According to data from JLL, a full 5.5 million square feet of space has been leased to the media sector south of Canal Street, said John Wheeler, a managing director at JLL who runs the firm's lower Manhattan office. Since 2010, over 56 percent of all new leases signed downtown are migrations to lower Manhattan.
"I do think the trend is picking up and I think that there's a confluence of factors that is driving it," Mr. Wheeler said.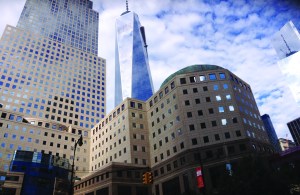 Nature Publishing Group, a subsidiary of Macmillan Publishing Group, took a roughly 176,000-square-foot lease at Brookfield Properties' 1 New York Plaza. It will move in June 2015. The parent company is rumored to be considering a move to more than 150,000 square feet in lower Manhattan.
Nature Publishing wanted to consolidate its offices and create a campus, according to the company's broker in the deal, Leon Manoff, a vice chairman at Colliers International. When the firm concluded the deal in May, asking rents were in the mid- to upper-$40s per foot.
"Downtown offers the best value," Mr. Manoff said. Besides, "there were other publishing companies that had already been pioneers."
Mr. Manoff also represented American Lawyer Media in its deal for 90,000 square feet at Silverstein Properties' 120 Broadway. They moved in about seven years ago, he said. The deal was driven by the price, the size of the floor plates and the quality of the landlord, Mr. Manoff said.
"The biggest thing right now is the value, obviously," said Jerry Larkin, the director of leasing at Brookfield Properties. He described lower Manhattan as "an evolving market."
Also, Mr. Larkin said, "Because of all of the money being spent on the transportation, it's becoming more and more accessible. Compared to some of the Midtown buildings, tenants are seeing value."
As more companies snap up space, tenants have to transact quicker and prices have increased by double-digit increments in the last year, Mr. Larkin said. At Brookfield, the leasing team upped all of its asking rents by 10 percent over the last three months alone.
Time Inc. will be relocating its headquarters to 225 Liberty Street at Brookfield Place in lower Manhattan from the Time & Life Building at 200 Park Avenue. The media conglomerate took a long-term lease for roughly 700,000 square feet across six floors at the property and will move in late next year.
Time Inc.'s deal was the largest lease announced in the second quarter of this year, and the largest downtown relocation since Condé Nast's deal was revealed, according to the Downtown Alliance's second-quarter report.
"Time was a breakthrough, watershed type of deal in the same way that Condé was," said Mr. Wheeler, who was not involved in the deal.
With floor plates of over 100,000, Time Inc. is planning "for a modern, open workspace that will be designed to foster a greater sense of community and collaboration across the company," said Joe Ripp, the chairman and chief executive of Time Inc. in a May statement announcing the deal. And, he noted, the deal "will deliver significant cost savings."
While average asking rents in Midtown South are $63 per square foot, lower Manhattan rents are below $50 per square foot despite continual quarterly growth, according to the Alliance for Downtown's report. "Lower Manhattan retained its competitive pricing advantage, with an overall average asking rent $11 less than Midtown South and $22 less than Midtown," the report says.
While some companies are drawn to older buildings that still have good systems and services in place, others want to take advantage of new construction with larger and more efficient floor plates.
Perhaps the trend dates back to the move by Mansueto Ventures' business media brands' Fast Company and Inc. The publications became two of the first tenants at 7 World Trade Center when Mansueto announced the 15-year, 40,000-square-foot lease in July 2006.
John Koten, the chief executive officer of Mansueto Ventures, said in a press release at the time that "Our selection of 7 World Trade Center … reflects our company ethos to see 'beyond the box.'"
Other publishing brands to make the downtown move include American Lawyer Media at 120 Broadway, HarperCollins Publishing, Thomson Reuters Markets and The Knot at L&L Holding Company's 195 Broadway.
"This is really more of a trend that we've seen unfolding over the last five years," Mr. Moss said. "It's now undisputed that lower Manhattan has become a media center."