MUFG Union Bank Takes 200K SF at McGraw-Hill Building
---
---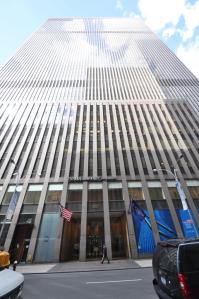 MUFG Union Bank has signed a lease for 209,700 square feet on the bottom three floors of the McGraw-Hill Building in one of the year's largest new leases, The New York Post reported.
The Mitsubishi UFJ Financial Group subsidiary is consolidating several Manhattan offices at the Rockefeller Group's building, at 1221 Avenue of the Americas between West 48th and West 49th Streets. MUFG Union Bank also has office space at 1251 Avenue of the Americas.
Cushman & Wakefield's Fred Smith and Omar Farooq represented the tenant in the transaction. C&W's John Cefaly represented the landlord along with Rockefeller's Ed Guiltinan. C&W would only confirm to Commercial Observer the brokers' names were correct.
Earlier this year, law firm White & Case took 440,000 square feet in the 50-story building, spanning nine floors as well as some basement space, the Post reported in April. The law firm will occupy most of the space currently leased to McGraw-Hill, which is vacating the building at the end of next year.
The 2.5-million-square-foot building, which first opened in 1972, is undergoing a major capital improvement program, including enhancements to the lobby, elevators, entrances and side-street plazas, and is scheduled for completion in 2015, according to Rockefeller Group's website. It is one of the largest buildings in New York to achieve LEED-EB Certification, the designation by the U.S. Green Building Council for existing buildings