Lagardère Unlimited Trades Trendy Midtown South for Midtown
---
---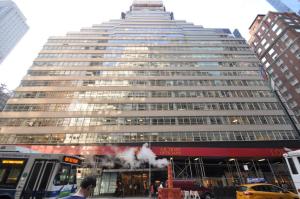 Lagardère Unlimited, an international sports and entertainment management company, will double the size of its current office space by moving to 488 Madison Avenue.
First reported by The Wall Street Journal, Lagardère Unlimited will occupy 18,555 square feet on the entire 16th floor of the building, which is between 51st and 52nd Streets. The company now has space at 235 Park Avenue South between East 19th and East 20th Streets, and will move into its new office at the beginning of 2015.
"We can't wait to move into our new North American headquarters at 488 Madison Avenue. Its style will mirror that of Lagardère's global headquarters in Paris," said Andy Pierce, Lagardère Unlimited Americas' president and CEO, in a prepared statement.
Cushman and Wakefield's David Stockel, Peter Van Duyne and John Picco represented Lagarderè Unlimited in negotiations, while David Turino from the Feil Organization represented the landlord in-house. The transaction was completed in August.
"Lagardère Unlimited is expanding and wanted a space that would allow them to continue to grow and mirrors their global headquarters location in Paris," Mr. Stockel said. "The space at 488 Madison Avenue includes a wraparound terrace that overlooks St. Patrick's Cathedral to the south and Madison Avenue to the east. It's a fantastic space and a great pairing of an exciting tenant with a hands-on ownership team."
The property at 488 Madison Avenue is a Class A office building with 24 floors. The asking price was in the high $50s per square foot.
Lagarderè Unlimited offers a host of services to those in the athletic and entertainment industries, including representation, venue consulting, events production and management and content production.