Council Member Calls for More Affordable Units at Astoria Cove
---
---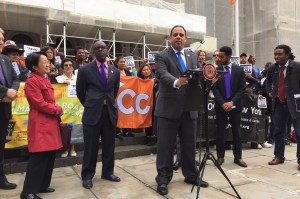 Surrounded by a phalanx of supportive fellow City Council members and activists from the Real Affordability for All coalition outside City Hall today, Council Member Costa Constantinides called for more affordable units in the proposed 8.7-acre, 1,723-unit Astoria Cove rezoning that reached the Council last week following its approval by the City Planning Commission.
Mr. Constantinides, a Democrat who represents Astoria and parts of Woodside, East Elmhurst and Jackson Heights, reiterated his objection to a provision of the rezoning application by an investment team that includes Alma Realty which he says would allow the developers to build fewer than the 345 affordable units they've committed to by constructing moderate-income housing that could command rents of $2,700 per month for a one-bedroom apartment or $3,500 per month for a two-bedroom unit.
"That's not where we need to be, so I look forward to bartering with the developers to make this a better proposal for the community," said Mr. Constantinides before fellow lawmakers indicated they will be backing the local council member in the coming months as the rezoning moves toward a vote. He added, "As they say in baseball, 'We've got the last licks.'"
But Mr. Constantinides stopped short of saying he would push for the developers to implement a blueprint circulated by the coalition of more than 50 housing advocacy and union groups that would set aside 850 units at the development for incomes ranging from up to 40 percent of the area median income, or $29,000 per year for a family of four, to 125 percent of the area median income, or $105,000 per year for a family of four. The coalition is hoping for significant changes to the application, said Monsignor Fernando Ferrarese, the pastor of Astoria's Immaculate Conception Church.
"We want real affordability for our people," Mr. Ferrarese said. "We don't want to be part of the two-city frame that this mayor is putting out there. We want to be one city."
The developers' representative in the rezoning, Howard Weiss of Davidoff Hutcher & Citron, has said that the developers won't utilize the application's moderate-income provision, but he's also argued that the coalition's plan makes the project unfeasible.