Chasing the Dream: Chad Tredway Tackles the Middle Market
---
---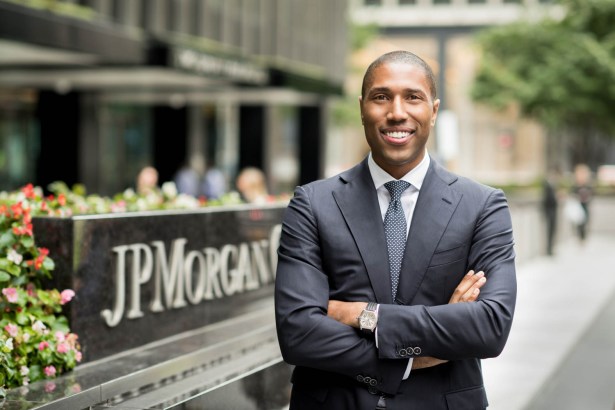 This spring, Chad Tredway became the youngest senior manager among J.P. Morgan Chase & Co.'s commercial real estate lenders as well as the youngest managing director at the commercial bank.
While tasked with building multifamily business for the country's largest bank, with $2.5 trillion in assets, Mr. Tredway came into this position without family connections or Ivy League bragging rights.
The banker, who turned 31 in September, five months after taking the reigns at Chase Commercial Term Lending East, grew up in a middle-class family just outside of Chicago and in 2002 became one of the first members of his family to go to college. While attending Loyola University Chicago, he took on back-to-back internships with financial firms and local real estate developers and ran track on a scholarship to cover tuition.
"My parents and I brainstormed what ways we could get college paid for," the husband and father of one told Mortgage Observer. "I wasn't big enough for football and I wasn't skilled enough at basketball, but I could always run down the basketball court faster than anyone else, so I ended up running track," he added.
It's perhaps fitting that a large number of the deals Mr. Tredway oversees fund multifamily properties inhabited by middle-class people. Those properties—often comprised of both market-rate and moderate-income units in New York, Boston and Washington, D.C.—in many ways reflect his own upbringing, as does his team at Chase.
Mr. Tredway's father, who worked in facilities management at an investment bank, and his mother, who also works in the mortgage business, urged him throughout his childhood to connect with bankers. The two saw that as a way for him to get his foot in the door, he said.
After graduating from Loyola in 2006, Mr. Tredway took an impromptu trip to New York and waited outside of UBS' headquarters at 299 Park Avenue in Midtown to talk to a fellow alumnus named Jordan Diab, who worked as an investment banker at the firm. The young Chicago-area native spent the night on Mr. Diab's couch after spending several hours discussing the industry and his future goals, he said. That led to a job at the global financial services firm.
"My dad planted that seed early on by introducing me to the bankers at the company he worked for," said Mr. Tredway, who was promoted to managing director and head of CTL East, from head of Northeast sales, in April. "That came full circle."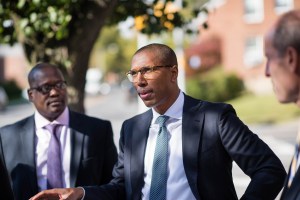 Upward Movement
In his new role, Mr. Tredway leads three regional sales managers and 130 employees in the bank's multifamily lending business throughout three of the largest cities in the Northeast. He replaced Jason Pendergist, who helped grow the division from under 40 people to a staff of more than 100 during his three years at the helm.
Since Mr. Tredway joined Chase CTL East last November, the division's pipeline has doubled to more than $1 billion, a first for the East business, he said. Industry sources equate that to annual originations of $3 billion to $4 billion. The young managing director has also hired talent away from several of his competitors, including Santander Bank, New York Community Bank, People's United Bank and Flushing Bank, he said.
"Over the past 12 months, our group has done a complete 180 in terms of how we serve our customers, how quickly we close and what our follow up looks like," Mr. Tredway said. "I get a list of our customers each week and I reach out to every one of them. I also moved our closing times from over 60 days to 45 days or less on average. That gives us the ability to close purchases or refinances faster than any other bank."
The quickest closing Mr. Tredway's team has done since he took over is 21 days, he said. He credited that accomplishment, among others, to the support of his colleagues as well as his superiors, Al Brooks, president of Chase Commercial Term Lending, and Ed Ely, head of Chase CTL West.
"It's a team effort with everyone playing different positions," Mr. Tredway said during a trip to Flushing, Queens, in early October to see one of several properties Chase CTL East recently financed. "The goal is to stay connected to our borrowers."
The sociable banker arrived at the six-story apartment building at 189-14 Crocheron Avenue that morning with Regional Sales Manager Robert Keenan, who joined Chase in 2012, and Client Manager Joe Zizzo, who joined Chase in 2005. Mr. Tredway, Mr. Keenan and Mr. Zizzo had just closed a $10.2 million loan to Ilias Theodoropoulos, president of the Queens-based Inter-Continental Financial Services, to refinance the 108-unit rental property, which Mr. Theodoropoulos acquired for $12.4 million in June 2011.
The 30-year loan came with a three-year fixed period and a mid 2 percent interest rate, the lenders said. Such favorable terms were offered as a result of the borrower's longstanding relationship with Chase, which began with the bank's acquisition of Washington Mutual in 2008.
"Chad and his team do their homework upfront," said Mr. Theodoropoulos, who runs a private mortgage brokerage firm in addition to owning and operating more than 30 properties in different boroughs. "If they come in and say they're going to lend you $10.2 million, they'll lend you $10.2 million. They don't re-trade the proceeds, which can become very problematic on a purchase when the borrower doesn't have the equity to cover the difference."
The group's other established customers in New York's outer boroughs include Michael Sacchetti of the Bronx-based Sacchetti Realty Corporation and Joseph Sbiroli of the Queens-based Ventura Land Corp.
While their average loan size is about $3 million, Mr. Tredway's team in August provided a $25 million loan to Mr. Sbiroli to refinance nine multifamily and mixed-use properties in Upper Manhattan and Queens. The borrower refinanced the portfolio at a low 3 percent interest rate to acquire another property in Upper Manhattan.
In September, Chase CTL East provided a $56.4 million loan to the real estate investment firm Rockwood Capital to fund the purchase of four apartment buildings on Manhattan's East Side, including 344 East 85th Street and 336 East 81 Street, city records show. Mr. Tredway declined to comment on that deal, citing client confidentiality.
Though the largest portion of his team's deals goes to properties in Manhattan, Mr. Tredway said he is beginning to see more demand in the outer boroughs, especially Queens. "We consider that a growth area for us," he said.
'Key Market'
J.P. Morgan Chase ranked as the nation's largest originator of multifamily loans in 2013 with 6,604 loans totaling $16.9 billion, edging out Wells Fargo, the Mortgage Bankers Association reported in October. The bank was also listed among New York City's top five multifamily lenders by total portfolio size, as of Sept. 30, according to city records.
"New York is a key market for us," said Mr. Brooks, who spearheaded the launch of Chase CTL upon joining the bank through its acquisition of Washington Mutual. "It's the biggest market in the country and we're not the biggest lender there. That's what Chad is there to make happen."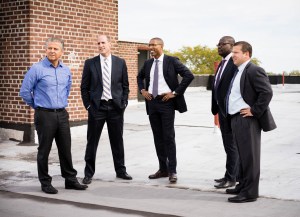 Chase CTL manages a national portfolio of more than $52 billion in loans, up from $43.5 billion in 2012, a company spokesperson said. The group's New York portfolio totaled $8 billion two years ago, as Mortgage Observer reported in March 2013, though the bank declined to provide an update on its total New York loan volume in 2014. Two industry insiders say the portfolio has increased by as much as 20 percent, largely due to a greater focus on relationships and the bank offering more flexible terms.
"They're offering a program with no legal fees, no appraisal fees, no processing fees and no inspection fees, so if the product fits in the box, its very competitive and the borrower saves money," said Michael Stoler, a managing director at the real estate investment firm Madison Realty Capital and a columnist for this publication.
"Chase CTL has also become much more user friendly, both to the consumer and to the brokerage community in New York," added Mr. Stoler, who reached out to Mr. Tredway early on to offer feedback on the East business. "In the past, members of the brokerage community were not comfortable referring to Chase because they would not protect the broker. Chad quickly realized this relationship is very important, since brokers are the intermediaries responsible for introducing new customers to the bank."
At a time when liquidity continues to pour into the market, property acquisitions are still soaring, and refinancing remains an attractive sell due to historically low interest rates; competition among multifamily lenders in the city has become an intense race. Mr. Tredway acknowledged his many competitors in New York, but said he feels confident that he will be able to further grow his team's market share in Manhattan and the outer boroughs.
Signature Bank Executive Vice President and Commercial Real Estate Committee Chairman George Klett, who competes with Chase for business, complimented the progress the bank has made in its New York multifamily lending under Mr. Tredway's watch. He also noted that the city provides enough opportunity for healthy competition among banks with the right credentials.
"Chad has made Chase into a real presence in the market," said Mr. Klett. "I have always felt there is plenty of room for good, prudent lenders."
Nonetheless, many of those institutions came under scrutiny this fall for their choice of clients. The biggest New York multifamily lenders in the boroughs evoked criticism from the city's public advocate, Letitia James, who released her annual list of New York's 5,000 "worst landlords" in early October. That list additionally pointed to many of the leading banks in New York, including Chase and its main competitors, as well as Fannie Mae. Those organizations provided the largest portion of financing to the landlords named, among them Robin Shimoff with 3,352 violations on 13 buildings.
But as most signs indicate, that has not affected Mr. Tredway's credibility in the marketplace.
"He has a work ethic," said Mr. Stoler. "Not to say that they didn't before, but he permeates a work ethic of being at the office at 7 a.m. and calling borrowers to thank them after they close a loan. That was never known by Chase and it's still not known by too many banks today."
People-Focused
Mr. Tredway came to J.P. Morgan Chase from UBS Investment Bank in August 2008. After working for 15 months as an associate in corporate finance, he joined the CTL business as a vice president in October 2009. With that promotion he was tasked with building the bank's strategy for reducing non-performing loans in South Florida and helping close Chase's commercial term lending operations there, he said. Mr. Tredway spent two years in Miami selling $75 million in distressed debt.
"For the better part of two years I literally lived in a hotel helping the firm work through small-balance multifamily loans and building a foreclosure and discounted-payoff process," he said. "In Florida, for me, it was through the ashes build your acumen. That came with a lot of support, of course."
From there, Mr. Tredway went over to the West Coast to help Mr. Brooks and Mr. Ely oversee Chase CTL's largest market, Southern California, while managing 17 salespeople. He spent two years in that role, where he grew his team's originations by more than 20 percent, he said.
"Working in Florida and California, he picked up things extremely quickly and very accurately," said Mr. Ely, who came over to J.P. Morgan Chase from Washington Mutual with Mr. Brooks after the acquisition. "He also took the people that were here, along with some new folks and made them better."
After helping out in California, Mr. Tredway moved to New York to lead Northeast sales for Chase CTL last November. During his first six months on the job, he spent his early Saturday mornings driving around the city to look at properties on the bank's list of potential deals and talking with customers about their needs. He still does that once a month now, he said.
"He's street smart," said Mr. Brooks. "A key part of our business is that every single deal we do, we go walk it and we go meet the people and that's what makes the difference. These loans are not repaid by the collateral, they're repaid by the owners. This is a people business first and Chad is a superb judge of that. As a result, our portfolio in New York just keeps getting bigger and cleaner."
In June, two months after his promotion, Mr. Tredway invited 100 clients to a Chase-sponsored event at the Tenement Museum at 97 Orchard Street in Manhattan's Lower East Side.
Many of those invited came ready to talk deals and opted to take one of the museum's several tours, which included "Hard Times," "Sweatshop Workers" and "Irish Outsiders." Some of Mr. Tredway's guests left mid-tour to take business calls, while others stayed on for the full half hour to learn about the history of the 151-year-old preserved tenement building and surrounding neighborhood. Some quietly listened. Others jovially took part in the tour guide's oral history test. Two customers openly speculated about how the space would perform if it were converted back into rental apartments in 2014—very well for whoever facilitated it, they agreed.
At the time Mr. Tredway told Mortgage Observer he wanted to create a memorable experience for his clients and was also planning upcoming trips to the U.S. Open and the Top of the Rock at Rockefeller Center.
"We are looking to aggressively grow our market share in New York and to do that our focus will always be on the customer," he said. "On the East Coast as with the West Coast, we want to stand out as a connection rather than a commodity."