Silverstein Properties Refinances River Place With $230M Wells Fargo Loan
---
---
Wells Fargo provided a $230 million Fannie Mae loan to Silverstein Properties to refinance its River Place rental tower at 650 West 42nd Street on the corner of 12th Avenue, the borrower confirmed to Mortgage Observer.
The seven-year interest-only loan carries a rate below 3.5 percent and replaces existing securitized debt on the property that is nearing maturity, Silverstein Properties Chief Executive Officer Marty Burger said. Ackman-Ziff served as a broker on the transaction.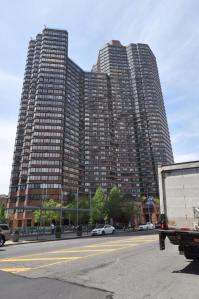 The Fannie Mae loan replaces a $200 million 10-year CMBS loan originated by American Property Financing in January 2005, which had a fixed interest rate of 5.3 percent. Wachovia, now Wells Fargo, acquired APF in 2006.
Alan Wiener, group head of Wells Fargo Multifamily Capital and former chief executive officer of APF, came over to Wells Fargo through the acquisition, and maintained a relationship with Silverstein Properties over the years.
Larry Silverstein's development, investment and management firm built the 41-story, 921-unit rental property at 650 West 42nd Street, along the Hudson River, in 2000. Mr. Silverstein acquired the land, which also now houses the twin luxury rental buildings Silver Towers, for $20 million in 1984 with a $25 million loan from Bankers Trust Company.
Starting rents at River Place run $2,690 for a studio apartment, $3,390 for a two-bedroom unit and $4,990 for a three-bedroom unit.
The tower, which is 99 percent leased according to a Silverstein Properties spokesperson, contains a courtyard, roof deck, gym, and a glass-enclosed 25-yard pool—one of the largest in a New York City residential building.