Restaurant and Hair Salon Sign East Village Leases
---
---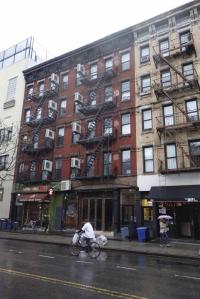 Mediterranean restaurant Ethos and hair salon Shampoo will open new locations in the East Village through ground floor and basement leases in Kushner Companies properties, Commercial Observer has learned.
The two new deals for the restaurant in a 3,680-square-foot space at 167 Avenue A between East 10th and East 11th Streets and the salon in a 2,334-square-foot storefront at 14 Avenue B between East 2nd Street and Houston Street lead a portfolio of seven other retail spaces that RKF is marketing on behalf of Kushner in locations stretching across the Village and bordering the Soho area–potential locations that offer retailers excellent value, said RKF senior director Ross Berkowitz.
"We are thrilled to be partnering with Kushner once again on these four assignments and anticipate high demand for these spaces," said Mr. Berkowitz in a prepared statement. "This is a great opportunity for any retailer looking to establish a presence in two of New York's most vibrant, demographically diverse and popular neighborhoods."
Mr. Berkowitz, and RKF colleagues Andrew Stern, Ryan Horvath and Jonathan Butwin represented the landlord in the negotiations for the two new leases, while Messrs. Berkowitz and Butwin and RKF's Yanni Marmarou represented Ethos and RKF's Ryan Horvath represented Shampoo.
The spaces with asking rents starting at $125 per foot above grade at the Avenue A location and $100 per square foot above grade at the Avenue B store will give the new tenants a strong foothold in a low-vacancy area, said Patrick Crosetto, COO of Kushner Companies.
"The retail market in the East Village is very strong, which provides tenants with a lot of opportunity," Mr. Crosetto said in prepared statement. "And the space is even more attractive because of the high quality of service we offer as an institutional landlord."
Jared Kushner, the chief executive officer of Kushner Companies, is the owner of Observer Media Group, which publishes Commercial Observer.