Nonprofit Profits: SCO Family of Services Joins Sales Binge
---
---
This nonprofit will turn a large real estate profit. When, not if, the SCO Family of Services sells its current foster care and child clinic building at 570 Fulton Street in Downtown Brooklyn, the existing three-story structure will become the site of the area's latest new tower.
And the nonprofit whose website says it "provides necessary services and unconditional care" to 60,000 children, teens and adults in New York City and Long Island should net a sizeable gain to pay for its operations, joining the ranks of other nonprofits who are cashing in on their real estate despite community concerns over displacement and potential risks involved with disposing of their assets.
The building's location among the rising buildings near the Brooklyn Cultural District attracted several quality bidders in the offers-fielding phase that ended two weeks ago, said Ofer Cohen, the founder and president of TerraCRG, the company that's selling the property for the nonprofit.
"I think they were impressed with the caliber of developers looking at this site," Mr. Cohen said. "There's a lot of serious contenders in there. Hopefully, within a couple of weeks we'll have a deal."
The nonprofit's building garnered 15 offers during its 45 days on the market and several unsolicited ones before the property was for sale, said Bob Sherman, SCO's chief administrative officer. The building with 125 employees onsite represents just one of the organization's 50 properties and 125 locations, the footprint of a foster care, early childhood, homeless shelter, and family services provider that allotted more than $227 million in programming in fiscal year 2013 through fee-for-service programs, government contracts and private funding, according to its latest annual report.
The nonprofit will find a "mutually convenient" site for employees and clientele somewhere nearby to continue its programs in the area while pouring the money from the sale into its operations, Mr. Sherman said.
| | |
| --- | --- |
| "It's a function of the fact that these buildings are trading at record prices. It's not a coincidence" | |
"As a nonprofit, we're always looking for sources of revenue," Mr. Sherman said of the imminent sale. "It will really strengthen us in all areas."
The site's attraction derives from favorable building terms for the neighborhood the city rezoned in 2004. A buyer of the property that's near multiple stations for nine subway lines and the new Barclays Center can build up to 86,304 square feet under the city's inclusionary housing program, according to a listing brochure TerraCRG is circulating for the site. The Stahl Organization's nearby building with condos at 388 Bridge Street boasts units selling at an average of $1,277 per square foot, according to TerraCRG, making SCO's property a prime potential location for condo development.
"While there are approximately 13,000 residential units in construction in Brooklyn … it is estimated only 10 percent will be condominiums [and] the rest will be rentals," the company's exclusive offering memorandum says. "The lack of condo inventory created a surge in condo pricing over the last year and a need for quality condo units."
The Dermot Company's 42-story, 326-unit luxury rental building has nearly opened next door to the nonprofit's building at 66 Rockwell Place, and a slew of other projects are either complete, under construction or planned for the area. The site borders the cultural district of performance spaces and mixed-use developments slated for the neighborhood surrounding the Brooklyn Academy of Music, and it sits a couple of blocks from the 1.5 million-square-foot mixed-use retail, commercial and residential complex at City Point.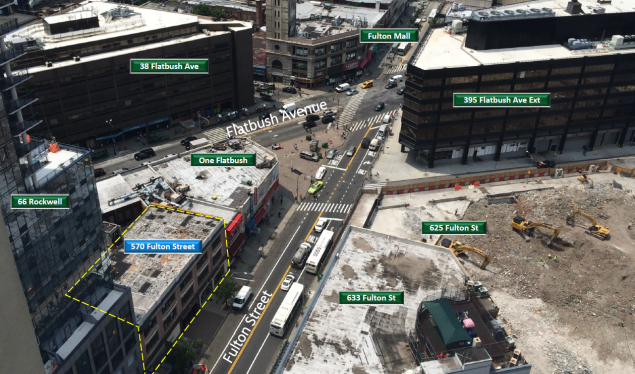 Employees at small businesses on the stretch of Fulton Street where SCO's plot fronts for 100 feet have noted the construction. The three-story structure also currently holds a 2,500-square-foot retail space that's occupied by Nicholas Brooklyn, an African- and Caribbean-American store selling health items and figurines and hosting musical performances and weekly healing sessions. A healer and part-time employee who said her name is Ife noted imminent move-outs for other businesses in the area and expressed frustration with the neighborhood's visible changes.
"Brooklyn is very healthy, but at the same time it's displacing families and small businesses," she said, adding that she thinks Mayor Bill de Blasio and Borough President Eric Adams should host a town hall meeting on the topic. "What about the small businesses that make the community what it is?"
A couple doors from the SCO-owned storefront, Fulton Street Bagels will be vacating its store on the block in coming months, said Juan Muro, a worker at the small shop.
"They turn out businesses that have been here for 20 years because we pay rent to someone else," Mr. Muro, 27, said of property buyers in the area. "It's bye-bye us."
Yet pop-up shop owner and fashion designer Rachel Pimker, who is operating a temporary store named Hard Turn in a space at the corner of Fulton Street and Flatbush Avenue, welcomes the new developments.
"They're pushed out of their neighborhood because their neighborhood is getting better," said Ms. Pimker, referencing retail job growth from businesses catering to the neighborhood's new residents. "You've got to look at it—not from the loser de Blasio point of view, but from the Bloomberg point of view."
After the city invested $400 million in infrastructural improvements to the area, private investors ponied up for more than $4 billion in investments to install 5,000 new residential units, 1,100 new hotel rooms, nearly 250,000-square-feet of office space, and 625,000 square feet of retail space over the past decade, according to a 10-year report by the Downtown Brooklyn Partnership. With such growth, developers are looking to buy up properties like SCO's building, said Stephen Palmese, a partner at Massey Knakal Realty Services who has represented clients like the Archdiocese of Brooklyn and the Jehovah's Witnesses Watchtower Bible and Tract Society.
"I think what's interesting about this site is that it has a strong residential component and a strong retail component," said Mr. Palmese, who noted he's brokered sales for 65 buildings in the Downtown Brooklyn area. "I think that is what is driving pricing, and I think $350 per buildable square foot is certainly reasonable. That would be $25 million," he added, using the site's as-of-right zoning of 71,920 square feet.
But Mr. Cohen declined to speculate on the final sale price of the former clothing factory for Brooklyn staple Buddy Lee that the nonprofit purchased in 1985 for $500,000. When the nonprofit bought the building, the site had long been vacant.
Yet nonprofits around the city have made moves to cash in on favorable investment sale prices regardless of how long the organizations have occupied their buildings. Foster and childcare nonprofit the New York Foundling sold a Greenwich Village building for $45 million earlier this month after buying it for $3 million in 2002, the New York Daily News reported. In late August, United Charities, which comprises the Community Service Society of New York, the Children's Aid Society and New York City Mission, sold the 1892 building at 287 Park Avenue South that John Kennedy built for the charities for $128 million to Chinese developer Cheerland Investments. And just across East 22nd Street from the United Charities building on the corridor once known as "Charity Row," the Church Missions House is reportedly under contract for $50 million.
The activity surrounding the building that has housed the Community Service Society and the two other nonprofits reflects a difficult decision by the organizations to try to grow their impact by shrinking their albeit historic real estate footprint, said David R. Jones, CEO and president of CSS.
"Our ability to fulfill our mission to help low-income communities overcome the consequences of poverty is not contingent on our being in this building or at this geographic location," said Mr. Jones in an email statement. "By selling the building, CSS has the opportunity to grow its endowment and thus preserve its position as an unwavering and independent voice for low-income New Yorkers for years to come."
Even with such real and potential returns, sales like SCO's imminent transaction on Fulton Street in the new Downtown Brooklyn also carry risks for nonprofits.
"The most obvious is that the greatest financial benefit is selling an asset and leasing elsewhere. At the end of the lease, you can be priced out," said Richard Warshauer, a senior managing director at Colliers International who represents the Salvation Army and other nonprofits in property acquisitions and sales.
But, he added, "It's a function of the fact that these buildings are trading at record prices. It's not a coincidence."