Moe's Sneaker Spot Signs Harlem Lease
---
---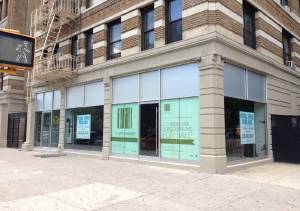 Trendy urban shoe retailer Moe's Sneaker Spot will open its second Manhattan location this fall at 1890 Adam Clayton Powell Jr. Boulevard on the southwest corner of 115th Street in Harlem, Commercial Observer has learned.
The rapidly-expanding shoe chain with a dozen locations in New York and New Jersey inked a 10-year, 1,800-square-foot lease in the ground floor space of a newly-converted condo building owned by Tahl Propp Equities where asking rents for the formerly-vacant retail space run approximately $55 per square foot, said Faith Hope Consolo, chairman of Douglas Elliman's retail group.
"This is an especially strong corner for sports shoes and active apparel, close to both Central Park and Morningside Park," said Ms. Consolo in a prepared statement. "In recent years, we have been responsible for dozens of leases in this immediate area and this is where the 'shoe fits' best!"
Ms. Consolo and her colleagues Joseph Aquino and Arthur Maglio represented both the tenant and the landlord in the transaction, which brings another new business to a neighborhood where the Douglas Elliman team has delivered new occupants like Tribeca Pediatrics, Ottomanelli Brothers Wine & Burger Bar, and H&R Block.
"In addition to a great overall selection, Moe's Sneaker Spot is an authorized Nike retailer with the rights to sell the brand's products in Harlem south of 125th Street," Mr. Maglio said in a prepared statement. "This is a valuable merchant for the area and solidifies the confidence an iconic brand such as Nike has in this retailer."