Midtown Drops the Basis Points
---
---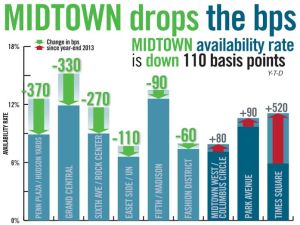 The Midtown availability rate dropped below 10 percent for the first time since June 2008, and is the lowest it has been in 75 months. Since the end of last year, the availability rate is down 110 basis points, and things really started to heat up during the summer, as it dropped a combined 70 basis points in July and August. Despite starting 2013 with over 850,000 square feet of negative absorption in January, Midtown has recovered nicely with 3.5 million square feet of positive absorption since then. So far this year, 34 leases greater than 100,000 square feet were signed, and half of them were completed in Midtown. Of the 17 large leases inked, eight were tenant relocations and nine were renewals, while five of the renewals included expansion space.
Since the start of the year, the Penn Plaza/Hudson Yards submarket has had the largest decline in availability out of the nine Midtown submarkets. At 8.9 percent, the availability rate is 370 basis points lower than the start of the year, which can mostly be attributed to the increase in demand for large blocks of space in the area. This submarket actually accounted for half of the large-tenant relocations for Midtown this year: New York & Company's 178,000-square-foot lease at 330 West 34th Street, R/GA's 173,000-square-foot lease at 450 West 33rd Street, the 131,117-square-foot Macy's lease at 112 West 34th Street and a 133,947-square-foot sublease by Publicis at 1 Penn Plaza.
Other submarkets have contributed to the high positive absorption totals and significant drops in the available supply as well. Grand Central availability is down 330 basis points to 11.9 percent since 2013 and Sixth Avenue/Rock Center availability dropped 270 basis points to 9 percent. Three other Midtown submarkets have positive movement in the available supply this year: East Side/UN down 110 basis points to 6.6 percent, Fifth/Madison down 90 basis points to 12.6 percent and the Fashion District down 60 basis points to 7.4 percent. There are, however, three submarkets that posted increases in available supply holding Midtown back this year. Times Square availability jumped 520 basis points to 11.1 percent, Park Avenue availability increased 90 basis points to 10.6 percent and Midtown West/Columbus Circle rose 80 basis points to 7.9 percent.