Financial Company Moving to Midtown
---
---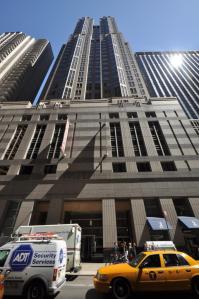 Wealth management firm KLS Professional Advisors Group will relocate to a bigger office in Midtown this fall through a 16-year, 30,852-square-foot lease for part of the 12th floor and all of the 14th floor at the Paramount Group's building at 1325 Avenue of the Americas between West 53rd and West 54th Streets, the New York Post reported this morning.
KLS Advisors will terminate their lease a year early for a smaller space in the Flatiron District at 111 Fifth Avenue for no fee, said Joseph Genovesi, executive managing director of Savills Studley.
"After an extensive search process, this deal allowed us to secure a long-term home for KLS and create a high-end Midtown office environment for them," Mr. Genovesi said in a prepared statement. "Considering market trends, we advised KLS to make an early long-term commitment at today's rates in Midtown, which were still favorable for tenants. KLS had clear goals to be in a first-class environment, and 1325 was a perfect match."
Mr. Genovesi and his colleague, Savills Studley associate John Harte, represented KLS Advisors in the lease negotiations, while Frank Doyle of JLL negotiated on behalf of the landlord.
Mr. Doyle didn't immediately respond to requests for comment.
Officials with Savills Studley declined to state asking or taking rents on the property, but average asking rents in Midtown run for $73.82 per square foot, according to the latest quarterly "Manhattan Office Snapshot" from CBRE.
KLS Advisors, which also has an office in Los Angeles, provides services that include investment management, insurance, retirement planning, trust and estate planning, tax planning and financial decisions.