Argent, SL Green Trade Barbs Over Grand Central Air Rights
---
---
The dispute over Midtown East rezoning between Grand Central Terminal landlord Argent Ventures and 1 Vanderbilt developer SL Green Realty Corp. spilled over into the panel circuit this morning at the annual September conference of the Appraisal Institute.
Shortly after SL Green managing director Robert Schiffer detailed roughly $210 million in infrastructure improvements for the 1.6-million-square foot tower slated for Vanderbilt Avenue and East 42nd Street–upgrades like new stairways to the terminal and an enclosed public space, in addition to building setbacks on the 65-story tower allowing new open viewing lines for the terminal–Argent director of development Eric Anderson reiterated the company's opposition to potential city bonuses giving SL Green the right to construct the new tower without buying any of Argent's 1.3 million square feet of transferable development rights at Grand Central.
"It's $322 million in value," Mr. Anderson said, using a $600-per-square-foot figure for air rights he attributed to an appraiser's pending study of the terminal's air rights in pricing the additional 537,000 square feet of space the zoning proposal for the tower authorizes. "SL Green has said they'll be providing $210 million. That means a $112 million profit on day one. That's not a very good deal for the city."
The appraisal of the terminal's air rights represents a new figure that's 44 percent higher than the $415-per-square-foot value that appraisers set for Grand Central's air during last year's failed rezoning of Midtown East, Mr. Anderson said. Representatives for Argent have characterized SL Green's planned 4,000-square-foot transit hall at the foot of the planned development as a "lobby in a billion-dollar tower," but Mr. Schiffer of SL Green said 1 Vanderbilt is a "great example of transit-oriented design" while company representatives said Argent's figures relate to residential rather than commercial development.
"Citing residential condos as a comparison to One Vanderbilt, a commercial office building, is utterly irrelevant and entirely self-serving," said a spokeswoman for SL Green in an email, referencing Argent president Andrew Penson. "This so-called 'appraisal' is just another desperate attempt to drive unprecedented funding for transit improvements away from the public and into Andrew Penson's pockets."
In addition to the art and flora-filled public hall, the potential new 1,350-foot skyscraper will create a new entrance to the terminal on East 42nd Street, a new below-grade corridor, and a public plaza on Vanderbilt Avenue between East 42nd and East 43rd Streets, officials with SL Green say. But the public improvements package that officials at the company have pledged to outline in detailed cost assessments for Manhattan's Community Board 5 as part of its pending zoning application under the city's Uniform Land Use Review Procedure have gained support from transit advocates at the Straphangers Campaign of the New York Public Interest Research Group, as well as the Association for a Better New York, the Grand Central Partnership and the New York Building Congress.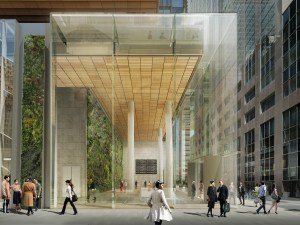 "One Vanderbilt is exactly the kind of new office development New York City needs," said Richard Anderson, president of the building congress, in a prepared statement. "This modern office tower will reinvigorate East Midtown's aging building stock and create expansive new public infrastructure to tap into the MTA's brand new East Side Aces LIRR connection."
But the proposal that entailed the majority of discussions on the panel moderated by Alice Palmisano of Brown Harris Stevens has yet to be certified by the Department of City Planning ahead of the planned 7-month approval process for the five blocks bordering Grand Central along Vanderbilt Avenue that the city carved out of the earlier 73-block proposal that the City Council tabled last year. The public needs more details early in the process on the rezoning, which will set a precedent for the street and the neighborhood, said Michael Kwartler, FAIA, a former City Planning official and founding director of the Environmental Simulation Center.
"The unfortunate part of it is that Manhattan is filled with some of the best lawyers in the country," Mr. Kwartler said during the panel discussion. "We may be looking at litigation hell here."