Silverstein Seeks Demo Permit for Hudson Yards Tower [Updated]
---
---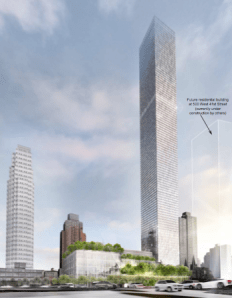 Larry Silverstein's Silverstein Properties is seeking a permit to demolish a Hudson Yards building, according to a Department of Buildings document. That would pave the way for the developer's planned mixed-use tower, which would soar 1,100 feet into the sky.
Attorneys for Silverstein Properties presented their case for changing the zoning of the Hudson Yards site at 520 West 41st Street in the proposal's first public hearing at the Department of City Planning at the end of last month, as Commercial Observer previously reported. 
"The developer presented their application, one community member spoke out in favor of the project and Community Board 4 submitted written comments," said a City Planning spokesman in a statement provided to Commercial Observer. "Now, the Department of City Planning is working with the applicant to finalize the scope of work and prepare response to comments. The applicant will then submit draft Environmental Impact Statement chapters in accordance with the scope of work."
Silverstein's plans call for developing 1,400 residential units, 175 units of corporate housing, 300,000 square feet of retail space and a 10,000-square-foot covered public open space at the two-acre site.
Siri & Marsik Architects is listed on the DOB application as the architect of record. No one was available in the firm's office to comment. Silverstein declined to comment through a spokesman.
Update: This story was edited to include a comment from a spokesman for the Department of City Planning.