Rendering Revealed for Meadow Partners' LIC Conversion
---
---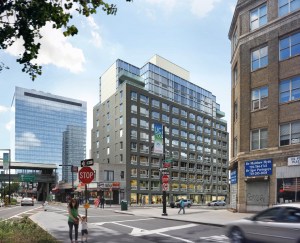 Meadow Partners, a Midtown investment fund, has released to Commercial Observer a rendering of its Long Island City conversion project at 42-15 Crescent Street.
The firm purchased the former office and retail building in December 2012 for $19 million, according to property records, and is turning it into a condominium with ground-floor retail.
The Avinash K. Malhotra Architects-designed building will be 11 stories with 124 units, according to Andrew Till, the vice president of asset management for Meadow Partners.
It is slated for completion early next year.
Meadow Partners is also developing a 13-story, 24-unit rental building across the street at 42-14 Crescent Street, Mr. Till noted. Construction at this building, designed by John Fotiadis, is expected to be complete by the end of 2015.