SL Green to Sell Three Manhattan Assets
---
---
SL Green Realty Corp. has agreed to sell three of its Manhattan assets, the real estate investment trust announced today. The deals, for 2 Herald Square, 180 Broadway and 985-987 Third Avenue, will generate net cash proceeds of $240 million, according to a press release.
The REIT will sell the leased fee interest in 2 Herald Square for $365 million. SL Green acquired the interest in joint partnership in 2007 before consolidating its position in 2010, the landlord said.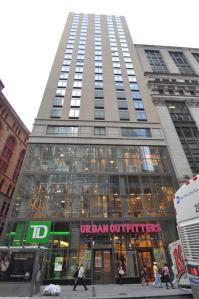 The company, in partnership with Jeff Sutton, has also agreed to sell its entire interest–the fee position and retail condominium unit–in the mixed-use property at 180 Broadway for $222.5 million. The 24-story building boasts three floors of retail space and dormitory units for Pace University.
Lastly, SL Green closed on the sale of its development properties at 985-987 Third Avenue for $68.7 million. The site was sold in conjunction with an adjacent parcel, which SL Green did not own, for a combined $100 million.
"While the strategic approach for each of these investments varied, we had one goal in mind:  creating shareholder value," said Andrew Mathias, the president of SL Green, in a prepared statement. "I am very pleased to say that with each of these transactions, we've successfully demonstrated our ability to identify, create, and harvest significant value.  Our combined IRR across these three deals is in excess of 21%."
SL Green did not disclose the buyers of the individual assets.
Steven Kohn of Cushman & Wakefield represented SL Green in the 2 Herald Square transaction. Adam Spies of Eastdil Secured represented the REIT in the 180 Broadway deal. Robert Knakal of Massey Knakal represented the sellers in the Third Avenue transaction.