Samsung Seals Deal at 837 Washington Street [Updated]
---
---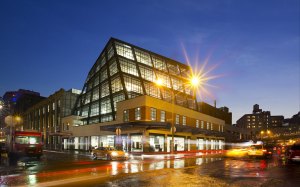 Samsung Electronics North America has confirmed it is leasing the entire 55,000-square-foot building at 837 Washington Street, the Wall Street Journal reported, using the space to house its brand marketing team and to showcase business mobile products. The deal was signed early last night, Paul Pariser, co-chief executive officer of Taconic Investment Partners, told Commercial Observer.
As CO first reported, the electronics company was close to finalizing a deal last month in the six-story building developed by Thor Equities and Taconic. The asking rent on the ground floor at the glass building, which is between Little West 12th and 13th Streets, was $500 per square foot, a source previously told CO. The asking rent for the floors above was $120 per foot and the asking rent for the below-grade space was $100 per foot, Mr. Pariser said, noting that they provided "market concessions."
Samsung outbid Facebook, Google and Ferrari to lease the whole building, a source previously told CO.
"We preferred and were searching for a single user for the building because we kinda built it for a single user," said Mr. Pariser, but they had interest from single and multiple users.
Mr. Pariser declined to indicate the length of Samsung's lease, but a source with knowledge of the deal said it is for 20 years including options.
[vimeo 100905459 w=500 h=281]
Thor and Taconic acquired a temporary certificate of occupancy early this month, Mr. Pariser said. The building is "sitting there beautifully complete," he added.
"837 Washington Street is an iconic building in New York's most dynamic and prolific neighborhood," said Thor Equities CEO Joseph Sitt in a statement provided to CO. "Situated on one of the area¹s most highly trafficked corners, 837 Washington Street offers Samsung unrivaled exposure to showcase their brand and they join an impressive list of companies that are capitalizing on the area¹s trendsetting reputation."
In addition to the 55,000-square-foot indoor space, Morris Adjmi Architects designed the office and retail development with more than 7,000 square feet of outdoor space on the second and third floors as well as the roof overlooking the High Line. The design included 28,000 square feet of retail space on the lower and ground levels as well as the second floor and office space in the 27,000 square feet spanning the third through sixth floors.
Samsung was represented in the deal by Craig Reicher, James Ackerson, David Liggitt and Patrick O'Keefe of CBRE. Newmark Grubb Knight Frank's David Falk, Daniel Levine and Jason Greenstein represented Thor and Taconic in the deal.
"Just as we have grown our presence in Silicon Valley, expanding our presence in the New York area is an important next step for our company," said Gregory Lee, chief executive of Samsung Electronics North America, in a statement published in the Journal. "The new, cutting-edge Samsung office in the Meatpacking District will help guarantee that our business is closer to some of our important customers, an innovation-minded workforce, and other key stakeholders for our businesses."
In 2008, Taconic and Square Mile Capital Management paid $45 million for the building, along with 15 Little West 12th Street (which they no sold). Thor later paid $55 million for Square Mile Capital's 75 percent stake in the development, the New York Post previously reported.
Update: This story was edited to include broker information as well as comments from Paul Pariser, co-Chief Executive Officer of Taconic Investment Partners, and Thor Equities Chief Executive Officer Joseph Sitt.