Nonprofit, Insurance Company Sign Big Seaport Leases
---
---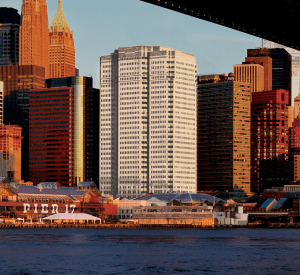 The nonprofit Center for Reproductive Rights and the Allied World Assurance Company signed new leases for more than 53,000 square feet at Jack Resnick & Sons' 199 Water Street building, Commercial Observer has learned.
The separate deals will move the advocacy organization into a 36,985-square-foot space for 10 years on the 22nd floor of the 35-story tower by early 2015 and expand the insurance firm's space by 16,296 feet on the 29th floor for 15 years to a collective 159,593 square feet in the structure that's adjacent to South Street Seaport.
"The flurry of leasing activity at 199 Water Street can be attributed to the strength of Lower Manhattan's economy, our desirable waterfront location and exquisite amenities," said Resnick Chairman and CEO Burton Resnick in a prepared statement. "These new leases are indicative of our reputation as long-term owners who are committed to our tenants' needs and our neighborhood."
Leases have currently filled the entire One Seaport Plaza building where asking rents run for $48 per square foot, according to the landlord, but three floors totaling 100,000 square feet will hit the market when Wells Fargo moves out at the beginning of next year. WeissComm Group, Epsilon Data Management and Western Union signed for space in the last 12 months at the building with a newly-designed Swanke-Hayden Connell lobby and a new exercise and locker rooms planned for later this year.
Brett Greenberg and Dennis Brady represented the landlord in-house in the transaction, along with John Cefaly and Robert Constable of Cushman & Wakefield, while Joseph Zona and Paul Ippolito of Newmark Grubb Knight Frank negotiated on behalf of Allied World Assurance. Daniel Horowitz, Jeffrey Peck, Gary Kerper and Kurt Handschumacher of Savills Studley represented the nonprofit, who will move from its previous offices at 120 Wall Street.
"They wanted to be in a modern, efficient office building," said Mr. Horowitz, who estimated the nonprofit saved between 5 and 10 percent on their rent over spaces on the western side of Lower Manhattan. "They essentially achieved a hybrid of a traditional office installation with some of the benefit of a collaborative and progressive work environment."
Representatives for NGKF declined to comment.