MTA Not Thrilled for New Guinness Subway Record Holders
---
---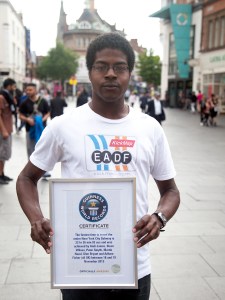 Weeks after the news broke that Guinness World Records anointed six British competitors with the title of the fastest trip to all 468 of the city's subway stations, officials at the Metropolitan Transportation Authority brushed aside the chance to congratulate the new record holders.
Glen Bryant, Peter Smyth, Adham Fisher, Andi James, Martin Hazel and Steve Wilson completed the 22-hour, 26-minute and two-second journey last November, and, while the milestone ride made international headlines when Guinness certified it last month, the transportation agency whose trains made the record possible didn't take a stance on the expert straphangers.
"We don't have a position on these types of attempts," MTA spokesman Kevin Ortiz said in an email interview. "We just ask that they abide by our rules of conduct and avoid any dangerous activity."
The team reached out to MTA's marketing department, Mr. Ortiz said, but the agency didn't offer up any sanction or blessing for the team, who came together during attempts to stop at every station in the London Underground.
The crew did follow the agency's guidelines during the nonstop journey on the MTA's network of 659 miles of track over 24 subway lines in the city, said Mr. Fisher, of Leicester, who noted he's visited every station in 14 cities worldwide. Mr. Fisher expressed disappointment with the MTA's lack of collaboration in an email interview.
"The MTA doesn't seem interested in something that could be seen as a great advert for it, the subway and the city," Mr. Fisher said. "We travelled thousands of miles just for this. The [New York City] subway is highly renowned as the one with the largest amount of stations in the world."
Mr. Fisher and the team also admire the city's train system as the only one in the world with full 24-hour service, he said, but Mr. Ortiz threw cold water on any observations they may have made during the journey.
"I don't think anyone can really get a notable impression of any station if they are only there for a short time while attempting a record," Mr. Ortiz said.