Manhattan Athletic Club Will Open a Brooklyn Gym
---
---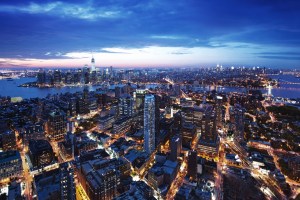 The Manhattan Athletic Club signed a 15-year, 15,000-square-foot lease to take over the fifth and sixth floors of Stahl Organization's 53-story luxury residential tower at 388 Bridge Street, the two companies announced yesterday.
Officials from Stahl and the health club negotiated directly without any brokers to bring in the gym that will offer laundered workout clothes and 50 group fitness classes at the Downtown Brooklyn structure that's currently the tallest building in the borough.
"We are confident that Brooklyn's nearby residential and office communities will benefit greatly from having a health club dedicated to providing them with the highest level of service," said Gregg Wolpert, co-president of Stahl, in a prepared statement. "A fabulous workout experience is coming to Brooklyn."
The property with 234 rental units and 144 condos, including 40 penthouses, according to its website, opened early this year and the colorful diode bulbs on the top of the structure have already changed the Brooklyn landscape.
The gym agreed to pay $40 per square foot, according to representatives of Stahl, and the location will be the club's first in Brooklyn.
Winick Realty Group is marketing the building's remaining 53,965 square feet of retail space, including a 10,000-square-foot ground floor space.