Egg Sandwich Shop Slated for Nolita
---
---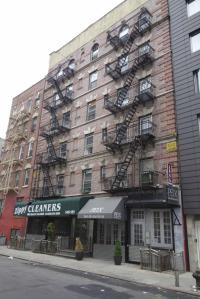 A restaurant serving up classic and creative versions of egg sandwiches will be opening in Nolita, Commercial Observer has learned.
Egg Shop signed a 10-year lease for a 600-square-foot ground-floor space at 151 Elizabeth Street, which abuts the Nolitan Hotel, at 30 Kenmare Street. The asking rent was $6,400 per month plus $300,000 in key money.
Peix Bar De Mariscos occupied the spot up until the closing of the lease deal at the end of last month, according to Peix Bar De Mariscos' broker in the deal, Eastern Consolidated's James Famularo. The building's owner also operates Zippy Cleaners on the ground floor of the walk-up residential building.
Broker Michael Yadgard of Maxwell Realty represented the restaurant owner, Sarah Schneider. He referred inquiries to Ms. Schneider, who did not immediately respond to a request for comment.
Egg Shop was planned for 43 Canal Street on the Lower East Side, as DNAinfo reported in October. Ms. Schneider and co-owner Demetri Makoulis were applying for a full liquor license at the spot. The outcome wasn't immediately clear, but Pies N' Thighs was seeking a wine and beer license at 43 Canal Street as of March, a community board document indicates.