Columbia Seeks Demo Permit at Future Campus Site [Updated]
---
---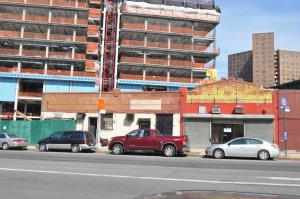 Columbia University is seeking a demolition permit for a building that is situated within the parameters of the school's $6.4 billion future Manhattanville campus.
Yesterday, the school filed an application for a permit to demolish a one-story building at 3205 Broadway, near 125th Street, according to Department of Buildings records. The site will become a 60,0000-square-foot academic conference center, "which will be a hub for fostering collaboration across Columbia's campuses and feature a 400-seat auditorium and state-of-the-art seminar and meeting rooms," a school spokesman said. 
The school's expansion project spans 17 acres, from 125th to 133rd Streets and between the Henry Hudson Parkway and Broadway. It has been plagued with issues including two fatalities, injuries, community protests and eminent domain lawsuits.
The site, which will house the Jerome L. Greene Science Center, has four outstanding violations, two with the DOB and two with the Environmental Control Board, all of which are issued by DOB.
Columbia bought the building at 3205 Broadway for less than $1 million in early 2012, property records indicate.
Update: This story was edited to include a comment from a Columbia University spokesman.