New CBRE Offices Showcase Latest Layout Trends
---
---

After CBRE started the process of leasing 20 new offices for its staff and outfitting them with employee-friendly features like concierge service, flexible work stations and new artwork, the company began a series of surveys to document its employees' before-and-after responses to the new digs, the company announced this morning.
Professionals at the 44,000-employee, 350-office real estate firm welcomed the new digs, despite the smaller footprints at many of the locations, and CBRE's two-year push to implement a new office strategy in its offices, entitled "Workplace360," sheds light on the changing nature of workspaces worldwide, company officials said.
"It's really interesting to look at all aspects of the employee experience and then reinvest in those things that matter the most," said Beth Moore, the firm's director of global workplace strategy. "CBRE is looking at rolling this out as new lease opportunities arise."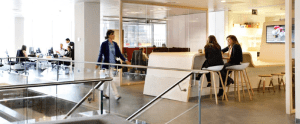 Tenants who reduce their square-footage by twenty to thirty percent and steer the leftover funds to employee amenities will raise their employee's workplace satisfaction by 15 percent, Ms. Moore and Lenny Beaudoin, CBRE's senior managing director of global workplace strategy, told a group of reporters at CBRE's Midtown East offices.
The company's internal modernization plan started with a new space in Los Angeles where no employee belongs at any particular desk, and it's carried through to a new Kansas City location where a collaborative new design boosted employee approval to 94 percent from 25 percent while reducing the office's footprint from 246 square-feet-per-employee to 163 square-feet-per-employee. And the firm's Tokyo employees now walk past a graffiti mural each morning and use 45 percent less paper. The office space push with a price tag company officials declined to discuss is illuminating what appeals to the next generation of employees, Mr. Beaudoin said.

"They have a very different set of expectations when they come to work," said Mr. Beaudoin. "We like to think of it this way: when you sign a lease, the person who you will want to attract to that workspace is in eighth grade."
And with the question of bike storage becoming commonplace in recent years, said CBRE's Vice Chairman Peter Turchin, the company's new offices should prove instructive when it seeks to sell companies on potential new offices.
"Workplace strategy is probably the thing that's on every tenant's mind," Mr. Turchin said. "It's a huge topic from law firms to tech firms."