Bronx Leads City in Multifamily Transaction Volume
---
---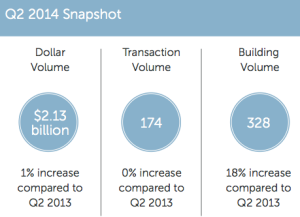 The Bronx saw both the most multifamily transactions and the highest number of multifamily buildings sold in the second quarter of this year, according to a report from Ariel Property Advisors provided to Commercial Observer.
The report tracks sales of buildings over 10 units that sell for at least $1 million. Sales of such properties increased 18 percent year-over-year in the second quarter citywide, the report shows. 
Several large portfolio sales, including one in northern Manhattan and one in the Bronx, helped the total dollar volume generated by multifamily transactions rise slightly year-over-year even as the amount of deals remained flat.
"Even though the number of trades was somewhat stable, this is an incredibly healthy market for multifamily assets throughout the city," Michael Tortorici, a vice president at Ariel, told Commercia Observer. "We have great expectations for the rest of the year."
Trading activity in the core Manhattan market, defined as the area south of East 96th Street and West 110th Street, declined from a year ago as well, with 30 percent fewer buildings being sold. The number of transactions was also down slightly in Manhattan from the first quarter, down 31 from 36.
The Bronx had the most transactions last quarter, at 52, the report said. The borough also led the city in the percentage increase in dollar volume from multifamily trades from a year ago, with a 77 percent increase from last year, from $273.2 million to $483.3 million.
That dollar figure was driven by in part SW Management's multi-phase sale of a 35-building portfolio in the western part of the borough to Related Properties for $270 million.
Prices in the Bronx also appeared to be strengthening, the report said, with the sale of 1770 Grand Concourse to Goldfarb Properties for $27.75 million ticking in at an impressive $207 per square foot.
Northern Manhattan saw a healthy sales boost, fueled in large part by the sale of a 10-building portfolio by Yeshiva University to Cammeby's International for $72.5 million. The dollar volume of Northern Manhattan sales was up 26 percent year-over-year, with 37 percent more buildings sold than in the second quarter of last year, from 51 to 70.
In Brooklyn, 86 percent more money changed hands in the multifamily market $310.8 million from last year at this time, to $578.8 million, even with 12 percent fewer multifamily transactions than in the second quarter of last year.
"There's no real issue on the demand side," Mr. Tortorici said. "Prices are up, people are accepting low cap rates and whenever there's a new multifamily property on the market it's like throwing a steak to wolves or something."