Verizon Offices Moving Back to 1095 Sixth Avenue
---
---
Verizon Communications will be moving its corporate offices back to 1095 Avenue of the Americas at 42nd Street, The New York Times first reported.
Verizon sold the majority of the Midtown tower for $505 million in 2005 and moved its operations downtown to 140 West Street. As previously reported, the telecommunications company sold 22 floors of its downtown headquarters to Magnum Real Estate Group last year. That sale prompted the company to move back into a smaller space in Midtown.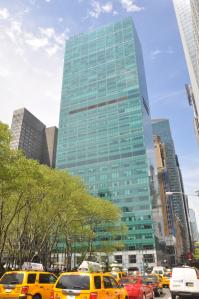 Verizon is in the process of selling off portions of its real estate around Manhattan as demand for land line service, which requires vast networks of wires and the space to house them, continues to fall.
MetLife will remain the primary tenant in the 41-story tower overlooking Bryant Park. Verizon will have offices on two floors of the building and will utilize space on four other floors for telecommunications infrastructure, according to a company spokesman.