Two Tenants Lease 1 WTC Pre-Built Spaces [Updated]
---
---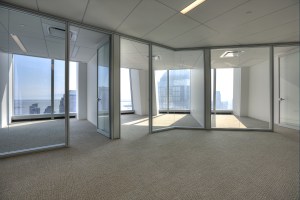 The Durst Organization and The Port Authority of New York & New Jersey have signed two 10-year leases for a total of 6,950 square feet of pre-built space at 1 World Trade Center.
Legends Hospitality Group has taken 4,759 square feet on the 45th floor of 1 World Trade to house its team developing the One World Observatory on the building's 101st and 102nd floors. Legends Hospitality is a division of Legends, the sports and entertainment company.
London-based, asset management and investment advisory company BMB Group has signed to relocate its U.S. offices from 7 World Trade Center to 2,191 square feet on the 46th floor.
Asking rent for the two pre-built spaces was $75 per square foot, according to a spokesman for Durst, who noted that Legends is expected to occupy the space in January, with BMB to follow in March.
"We have forged a terrific relationship with Legends and are very pleased that they have chosen to locate their One World Observatory office at 1 World Trade Center," said Jonathan (Jody) Durst, president of The Durst Organization, in a prepared statement. "We are also excited to add the BMB Group to our tenant roster under our pre-built program, which provides companies searching for a smaller footprint the opportunity to reap the benefits of New York's most prestigious new address."
The pre-built spaces at 1 WTC span 94,000 square feet on the 45th and 46th floors, and will provide as many as 18 tenants in total with customized construction and finishes for individualized organization needs, according to a release from Durst and the Port Authority. Legends and BMB mark the first leases for the pre-built spaces.
"These pre-built and build-to-suit opportunities have consistently attracted interest from companies worldwide eager to establish a presence at this elite venue," said Durst's Eric Engelhardt, director of leasing at 1 WTC. "Tenant prospects appreciate the status and allure delivered by the tallest building in the Western Hemisphere. This globally recognized address resonates perfectly with these companies' own international reach and prestige."
Mr. Engelhardt and a Cushman & Wakefield team led by Tara Stacom represented Durst in the deals, according to the New York Post, which first reported the news.
Durst, in a joint venture partnership with the Port Authority, is overseeing construction, leasing and management of 1 WTC. The 3-million-square foot building is now more than 56 percent leased, a release about the deals said. Conde Nast will be the anchor tenant at 1 WTC, occupying 1.2 million square feet, as Commercial Observer previouslyreported, in contrast to the smaller availabilities for pre-built space.
The deals "represents the continued commitment from the Port Authority to develop a dynamic, thriving and exciting office environment at 1 World Trade Center with world-class tenants both small and large," said Port Authority's director of World Trade Center Redevelopment Erik Horvat.
Legends was represented in-house. A call to Legends was not immediately returned. C&W's Jonathan Fein represented BMB in the deal. He didn't immediately return a request for comment.
Update: This story was edited to include the months the tenants are slated to move in as well as the fact that Legends and BMB are the first leases for the pre-built spaces.