Tech-Centric Broker Ashkán Zandieh Leaving ABS Partners
---
---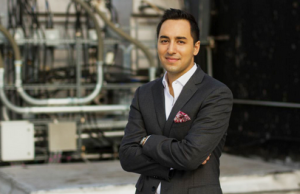 The founder of a network of tech-savvy real estate websites is leaving his current post as the director of the creative and start-up advisory division at ABS Partners Real Estate, Commercial Observer has learned.
Ashkán Zandieh, 31, who has spent more than two years at ABS Partners told Commercial Observer he's elected to focus full-time on Re:Tech, which connects real estate tech start-ups with potential investors and advice for growing as companies while also holding interactive demonstrations and networking events.
"If you stop moving, innovation dies," said Mr. Zandieh. "I wanted to remain limber and move at a quicker pace."
The start-up network, which he founded last year, now boasts more than 20,000 brokers, landlords, architects and developers, according to its website. Mr. Zandieh is preparing for a June 24 "demo day" in which nine budding entrepreneurs will compete for a prize sponsored by the Urban Land Institute in front of a panel of judges featuring Mr. Zandieh, WeWork (WE) co-founder Jesse Middleton and Dmytro Pokhylko of the city Economic Development Corporation. (Kushner Companies' Jared Kushner, the owner of Observer Media, which publishes Commercial Observer, is scheduled to be a keynote participant in the panel).
"There are big things happening in technology and real estate," said Mr. Zandieh of the event at WeWork's 25 Broadway collaborative work location. "This is the beginning of it."
Mr. Zandieh's network, where he and nine other staffers have titles of either "growth hacker" or "expansion hacker," includes start-ups like Floored, which creates 3D models of planned developments, 42Floors, which helps interested companies look at available office space in co-working buildings and Retail MLS, which finds available retail spaces.
Mr. Zandieh represented the San Francisco-based Makeshift Society co-working space in its lease negotiations for its first New York City location in Williamsburg and produced quarterly "techstarters" market reports during his time at ABS Partners.
"The broker's role is changing and the way a broker can combat that is by becoming very specialized," said Mr. Zandieh. "You're there to solve a problem for a particular industry; be a problem solver, not just a door opener."