Pzena Investment Management Signs Park Avenue Lease
---
---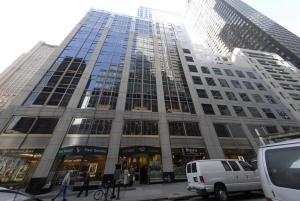 Global investment management firm Pzena Investment Management signed a 10-year, 36,996-square-foot lease to move its headquarters to 320 Park Avenue.
Ken Ruderman of Savills Studley represented Pzena in the lease negotiations with Mutual of America Life Insurance Company, the owner of the 1960 Emery Roth & Sons tower, and Pzena will move from its current home at 120 West 45th by April 2015, according to a release from Savills Studley.
"A transaction of this caliber, with such dynamic complexity, could not have been accomplished without the business savvy and financial acumen of many, so it was a true team effort of many professionals with a common goal," Mr. Ruderman said in a prepared statement. "Over the course of a year, we took a methodical march through the Midtown market to seek, develop and create opportunities.  With the cooperation of Mutual of America and their brokerage team, we crafted a long-term mutually beneficial transaction."
Asking rents in the 30-floor building vary from the mid $70's per square foot to the low $100's per square foot, according to Savills Studley. Frank Doyle, David Kleiner and Dan Kollar of JLL negotiated for Mutual of America in the deal. Representatives for JLL didn't immediately respond to requests for comment.
The deal was first reported by the New York Post reported this morning.