P.J. Clarke's Files $40M Lawsuit Against Brookfield
---
---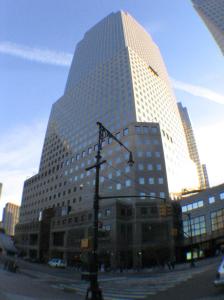 The owners of upscale restaurant chain P.J. Clarke's have slapped Brookfield Office Properties subsidiary WFP Retail Co. with a $40 million suit alleging the Brookfield Place developer has driven down its business by 50 percent and tried to force the eatery out of its location at 4 World Financial Center.
Restaurateurs Phil Scotti and Arnold Penner, who, along with a group of investors, own the seven-location steaks and chops chain that started at East 55th Street and Third Avenue in 1884, allege their landlord has purposefully erected sidewalk sheds that block views of the Hudson River and the Statue of Liberty, closed off escalators leading to the restaurant to prevent foot traffic and made life miserable for customers and staff with leaks and noises stemming from constant construction at the site.
"In a deliberate, bad faith and unlawful attempt to prevent access to P.J. Clarke's' premises, to drive away P.J. Clarke's' customer base, and force P.J. Clarke's to vacate the premises, [Brookfield] has performed its construction work and renovations in a manner designed to interfere with, interrupt and otherwise destroy P.J. Clarke's' ability to conduct business in the premises and to cause P.J. Clarke's to lose revenue and suffer enormous monetary and reputational damage, all in order to compel P.J. Clarke's to vacate the premises," reads the lawsuit filed Monday in Manhattan Supreme Court by the restaurant's lawyers.
The suit maintains that Brookfield's national director of leasing, Ed Hogan, asked the restaurant's owners to move to a different location or give up some of its space in an effort to install a new Pastis restaurant in the prime location on the ground floor of the building at 250 Vesey Street that houses Brookfield's headquarters. The site is currently undergoing a $250 million renovation.
Matt Cherry, a spokesman for Brookfield, declined to comment, citing company policy against commenting on pending litigation. Mr. Hogan, who Commercial Observer featured in an exclusive interview earlier this week, didn't immediately respond to phone and email inquiries.