Media Company Nabs Space at 437 Fifth Avenue [Updated]
---
---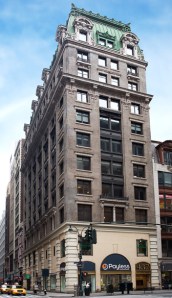 Renegade, a social media and marketing agency, has signed a lease at 437 Fifth Avenue at 39th Street.
The firm took 7,086 square feet on the entire fourth floor in a seven-year, three-month deal, the landlord, Joseph P. Day Realty, announced. Rick Brickell represented Joseph P. Day Realty in-house and Michael Pinney of Signature Partners represented the tenant in the transaction. The asking rent was $57 per square foot.
For a long time Renegade was based in Chelsea Market and it will move from 41 East 11th Street when the new office is ready in August at 437 Fifth Avenue.
"Now they've expanded into this space at 437 Fifth," Mr. Pinney said. The company liked the building for its light, long line of windows, its location and the landlord-offered concessions of free rent and tenant improvement dollars, he added.
The building is 95 percent leased, a spokeswoman for Joseph P. Day said.
Renegade will join Onward Search, a provider of interactive, Internet marketing, technology jobs and staffing/recruiter services, which moved into the building a couple of months ago, said its broker in the deal, Vladimir Spector of NAI Friedland. The firm took 7,238 square feet on the entire sixth floor for a five-year, three-month term, Joseph P. Day Realty said. The asking rent was $55 per foot. Mr. Brickell also represented the owner in this deal.
Update: This story was edited to include information about Onward Search's lease in the building.