Ed Hogan's Making Manhattan's Newest Shopping District
---
---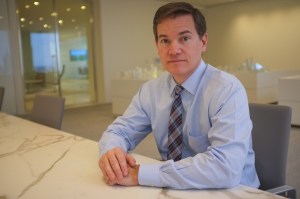 It would seem that Ed Hogan's job at Brookfield Place is nearly complete, but the national director of retail leasing for Brookfield Office Properties told Commercial Observer last week that a new phase is just beginning.
The 35,000-square-foot, 600-seat food hall Hudson Eats is open and nearly leased up, with counters taken by Blue Ribbon Sushi, Sprinkles cupcakes and others. The 25,000-square-foot (plus 10,000-square-foot outdoor area) Le District marketplace is fully leased by HPH restaurant group partners Peter Poulakakos and Paul Lamas. And the 250,000-square-foot retail center is 90 percent spoken for.
With last week's opening of Hudson Eats, Lower Manhattan's 60,000 residents and 300,000 office workers have more than a dozen new food options available in one place.
The roster of Hudson Eats tenants includes Mighty Quinn's, Umami Burger, Num Pang, Tartinery, Olive's, Dig Inn and Skinny Pizza.
"The food hall is incredible," said Laura Pomerantz, the principal at Laura Pomerantz Real Estate.
Mr. Hogan brought his three children to the food court this past weekend. Several counters offer gluten-free options, which his two children with celiac disease require.
Now Mr. Hogan will have to start focusing on retention and increasing retailer profits.
"It's never going to be done," Mr. Hogan said during a telephone interview. "Once it's up and running, I'm going to be focused on: how do I get my tenant sales to grow? How do we market it better? For Brookfield Place to be successful, we will have to be focused on what's happening in the retail world. There will be changes in retail over the next five to 10 years."
Brookfield Properties embarked on a $250 million renovation project at Brookfield Place, an 8-million-square-foot, multibuilding complex in Lower Manhattan formerly called World Financial Center. The center's grand opening will be March 26, 2015.
The company took the project to market three years ago but started looking at repositioning Brookfield Place as far back as a decade ago, Mr. Hogan previously told Commercial Observer.
Because of the relatively small size of Brookfield Place, Mr. Hogan was able to carefully select the tenants. Had it been a million-square-foot mall, it would have been harder to do.
"I'm so excited by every deal because we've worked so hard to curate this," Mr. Hogan said.
The buzz around Brookfield Place has been mounting as more and more luxury brands sign leases in the final months leading up to the grand opening.
"Once he locked in Hermès and Burberry, it felt like they turned the corner a little bit," said Karen Bellantoni, an executive vice president at RKF. Her company negotiated a lease for Bonobos in Brookfield Place, and she's trying to find space for other tenants.
Ms. Bellantoni commended Mr. Hogan for how "methodical" he was in marketing Brookfield Place. For example, he would release news about leases one at a time, generating excitement in the brokerage community as well as in the luxury world.
"Our PR strategy was different," Mr. Hogan said. "Some centers will announce all the tenants at once. We decided to announce a tenant every week or every other week."
The only problem at Brookfield Place, Ms. Bellantoni said, is there's not enough space for everyone who wants to be there.
Ms. Pomerantz, who represented Hermès as well as Scoop and Judith & Charles in their lease deals at Brookfield Place, said Mr. Hogan was strategic and solution oriented when it came to resolving potential leasing issues.
When she represented Hermès, Ms. Pomerantz said that Mr. Hogan "was able to figure out how to give them the frontage they needed to be part of the tenancy at 225 Liberty. He had to figure that out while leaving some [frontage] for tenants who didn't exist yet."
Mr. Hogan sees his biggest contributions to the project as understanding the Lower Manhattan neighborhood, establishing the image of Brookfield Place as an upscale retail center and then conveying the firm's commitment to bringing the vision to fruition.
The 48-year-old Larchmont resident, who has his suits custom-made or buys them at Saks Fifth Avenue or Rothmans, got his first taste of retail working for his mother at her five shoe stores in South Dakota. His college professor father, Mr. Hogan noted, was also an artist who made "showstopper" window displays for the stores.
Mr. Hogan started his career as an architect for Eberhart Brothers and then Skidmore Owings & Merrill. At the former, he designed and constructed weekend homes for wealthy New Yorkers in upstate Hillsdale. For the latter, he worked on suburban office buildings in Chicago. That background served him well at Brookfield Place, whose physical layout he changed.
Mr. Hogan has been at Brookfield Office Properties for nearly 20 years, having started when the firm was Olympia & York Companies.
While working on leasing up Brookfield Place, Mr. Hogan created FIGat7TH, a 300,000-square-foot, three-story open-air shopping mall in Downtown Los Angeles that opened in the fall of 2012. Zara opened its Downtown flagship in the center last week.
He is also working on Manhattan West, a 7-million-square-foot, mixed-use development with 250,000 square feet of retail. He said the company will have a "more developed plan" for the site at 33rd Street and Ninth Avenue come fall. In addition, he is heading up leasing 20,000 square feet of retail at 245 Park Avenue. Finally, his firm is redeveloping and retenanting 40,000 square feet of retail space damaged during Hurricane Sandy at 1 New York Plaza. Mr. Hogan said he is involved in every lease deal there. The firm announced just last week that Retro Fitness gym signed for 17,000 square feet on the retail concourse level.
Brookfield isn't the first company to establish retail and food presences in Lower Manhattan as the historically businesslike neighborhood transforms into more of a 24/7 community.
Brookfield gained the confidence that Brookfield Place could be renovated and flocked to after seeing the success of Goldman Sachs across the street. Behind Goldman's 200 West Street office is North End Way—or what's been dubbed Goldman Alley—which has been home to a series of restaurants for a couple of years. The tenant mix there influenced Mr. Hogan's decisions at Brookfield Place.
"We were thrilled with Goldman's lineup," Mr. Hogan said. "It allowed us to do more fashion and less food."
Also nearby will be the World Trade Center shopping mall, owned by Westfield Group. But they aren't vying for the same customers, he said.
"Brookfield Place and World Trade are different environments," Mr. Hogan said. "I'm not seeing World Trade announcing retail tenants, so I can't comment on the experience."
He did note one significant difference between the two projects, which are connected underground.
"The majority of Brookfield's retail is at street level, and we have amazing storefronts that create streetscape," while the majority of the World Trade Center retail is below ground.
Although Hudson Eats is on a roll now, Brookfield Place construction is actually behind schedule.
Mr. Hogan told Commercial Observer in March 2013 that the entire center would open in the third quarter of 2014 and all of the stores would open this fall.
The delay, he said last week, "had to do with permitting more than anything."
Those all-too-common hurdles make for short-term inconveniences. But Mr. Hogan's prescience, industry peers say, is his strong suit.
"Ed has been embraced by the industry," Ms. Bellantoni said. "He had a really good vision and stayed steady on what he wanted to do there."