Eastern Consolidated Markets LIC Properties for $10.35M
---
---
Eastern Consolidated will market the sale of a block-through, Long Island City development site at 37-29 31st Street and 37-26 32nd Street, Commercial Observer has learned. Asking price for the separate, contiguous properties is $10.35 million.
The site is zoned for a mixed-use, seven-story residential apartment building with ground floor retail, Eastern Consolidated told CO.
At a total of 50,500 square feet, the parcel was originally planned to be sold separately by the current owners, Abbeys Automate Inc. and The Cosma Family, Peter Carillo, a senior director of the investment sales division at Eastern Consolidated, who is representing the sellers along with Associate Director Chad Sinsheimer, told CO. When Mr. Carillo was working with both parties interested in asking around the same price per square foot for their individual properties, he saw an opportunity for the sellers to net a greater profit together.
"Given all the transactions that have happened recently, I am very confident we will get asking price or close to it," Mr. Carillo said.
Many developers are looking for over 50,000 square feet, according to Mr. Carillo, and the Long Island City development site offers this size. When the properties are combined, the future purchaser gains greater access through one quiet entrance on 32nd Street and a second entrance next to the elevated subway tracks on 31st Street, he continued.
The site is located between the 36th and 39th Avenue stations, within one and a half blocks of the N and Q trains. The properties are also located along a retail corridor within close proximity to area restaurants and stores, said Mr. Carillo.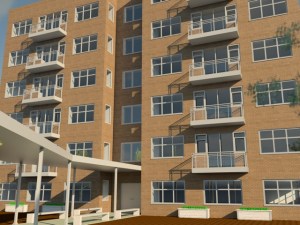 The property parcel will be delivered vacant or subject to short-term lease back agreements when sold, CO learned in a statement from Eastern Consolidated. There is one tenant at 32nd Street and two at 31st Street, all with leases expiring at the end of the year, according to Mr. Carillo. At this time, the buyer can decide to keep the building vacant or provide month-to-month leases during the development planning period, he continued.
The area shows promise for selling other properties in the same manner, said Mr. Carillo. There are several, similar situations he is working on with owners looking to secure benefit from combining properties for sale.