BNY Mellon Signs for 350K at Brookfield Place
---
---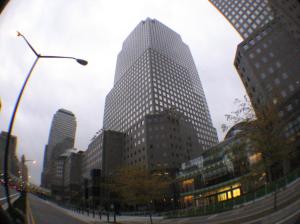 Bank of New York Mellon Corp. signed a 20-year, 350,000-square-foot lease to move its sought-after headquarters to 225 Liberty Street at Brookfield Place in Lower Manhattan, the bank and its new landlord, Brookfield Office Properties, announced today.
The news of the seven-floor lease ends a bidding fight between New York and New Jersey to attract the bank that lists $27.9 trillion in assets under custody, as bank officials said the attraction of staying in its longtime home and launching a sunlight-enhanced collaborative working space proved irresistible.
"New York City has been home to BNY Mellon since our founding by Alexander Hamilton in 1784," said BNY Mellon CEO Gerald Hassell in a prepared statement. "Our decision to remain anchored near our facilities at 101 Barclay Street gives us the opportunity to create a corporate campus with state-of-the-art facilities to serve our clients for decades to come. We evaluated a number of sites in several states where we have existing facilities, factoring in the quality of the work environment and amenities for our employees."
The bank will receive state subsidies through the Empire State Development Corporation, according to Crain's New York Business. New Jersey was reportedly offering a raft of incentives to move to Jersey City.
The bank will take up part of the 3 million square feet of space Merrill Lynch & Co. left when its leases at the former World Financial Center expired last year. The renovated Brookfield Place will open next year.
"We have now successfully leased approximately 2.6 million square feet at Brookfield Place over the last 12 months and the occupancy level at the complex is approaching 90%," said Dennis Friedrich, CEO of Brookfield, in a prepared statement.
Peter Riguardi, Michael Shenot and Michael Berg of JLL represented BNY Mellon in the lease negotiations, while Jerry Larkin, David Cheikin and Alex Liscio negotiated on behalf of Brookfield in-house. The companies haven't released asking rents. The New York Post first reported the story.