Allied Service Center Moving to Herald Square
---
---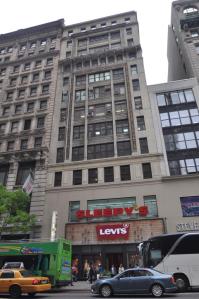 The Allied Service Center of New York City signed a 15-year, 23,896-square-foot lease to move its offices from the East Village to a larger space near Herald Square at 60-64 West 35th Street later this year, the nonprofit organization announced today.
The community organization that specializes in helping those living with HIV or at risk of contracting the virus boasts a 90-member staff and a $10 million budget after launching from a small donated space in the early 1990s.
"The timing for this move is perfect; we're now applying our successful models to a whole range of chronic conditions, and reaching more New Yorkers in need than ever," said Sharen Duke, the service center's executive director, in a prepared statement.
Marc Shapses, Joseph Messina, Nancy Weinstein and Oliver Petrovic of Savills Studley represented the nonprofit in the lease negotiations, while Ira Fishman and Dana Moskowitz of EVO Real Estate represented the landlord of the 13-story building between Fifth and Sixth Avenues. The asking rate for the space, which will include signage and a private elevator, was roughly $45 per square foot, according to the nonprofit's release.
"The tenant explored the entire Manhattan market to find a new location with great value that would accommodate the organization's growth," Mr. Shapses said in a prepared statement.
The owner of the building, 31 West 34th Street LLC, lists the same address in public records as Sol Goldman Investments, but representatives of the company didn't immediately return a call for confirmation of its ownership of the property. A spokeswoman for Savills Studley referred to the owner as "a group of private investors" assisted by the two EVO officials. Ms. Moskowitz said the landlord of the building is 34th Street Commercial Properties, which acquired a long-term net lease at the building from the late real estate mogul Sol Goldman's estate in 2012, in an email.