State Strikes Tentative Deal for Pier 40 Rehab
---
---
Governor Andrew Cuomo administration and park officials have reportedly struck a tentative deal with a developer to transfer unused development rights from Pier 40 in return for more than $100 million to rehabilitate the former cargo terminal.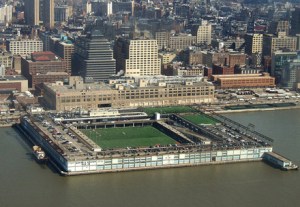 If it goes through, owners – including Atlas Group – would demolish the four-story St. John's Terminal Building on the site and build several residential buildings and retail shops in its place, the New York Times reported. The air rights from the 14-acre pier would be sold to the owner of a site across the West Side Highway.
"[We are] focused on solving a longstanding, well-documented problem at Pier 40 through the development of a mixed-use project at the St. John's site," an Atlas Group spokesman who confirmed the agreement told the Times.
But the proposal would require approval from city officials, a state-mandated approval process and zoning changes, not to mention it would take 10 years to demolish the terminal, which stretches more than three blocks between West Houston and Spring Streets, according to the report.
Hudson River Park officials have vied to repair and reposition the dilapidated pier in the past, but various plans, including one for a professional soccer stadium and another for a $600 million entertainment complex and residential towers, failed to win community support or financing.
The current soccer field at its center is crumbling, various sections of the Pier's amenities have been shut down, and a new report will show that 57 percent of the pier's 3,500 steel pilings are severely deteriorated.
"The state will continue to work together with the city and local elected officials and community stakeholders toward a viable solution," Jerry Russo, a spokesman for the Empire State Development Corporation, told the publication.