RXR Closes $330M 61 Bway Buy
---
---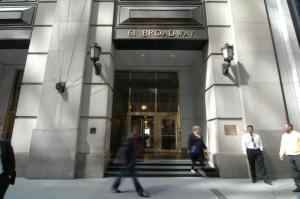 Last Friday, RXR Realty closed on its $330 million purchase of 61 Broadway at Exchange Place, Commercial Observer has learned.
The deal marks RXR's entree into the lower Manhattan market. RXR wanted the 33-story building because "the building itself has a tremendous amount of character," it's a great block with "lots of air and light" and one of RXR's tenants took a lease there, said Scott Rechler, chairman and chief executive officer at RXR.
Architect Bjarke Ingels' BIG, which had been in the landmark Starrett-Lehigh Building, will be moving into the top floor at 61 Broadway once RXR finishes "enhancing the character" of the building, Mr. Rechler said.
Mr. Rechler added: "We follow the customer."
There are currently 98 tenants in the building, occupying 91 percent of the building. RXR plans to create larger, 24,000-square-foot floorplates and bring in a new mix of tenants in the industries of media, technology and financial services, Mr. Rechler said. Rents in the building are already in the $40 to $50 range today versus 15 percent lower when RXR underwrote the deal several months ago.
Mr. Rechler and RXR's Frank Patafio negotiated the deal on behalf of RXR along with the firm's general counsel, Jason Barnett. JLL's Richard Baxter, Jon Caplan, Ron Cohen and Scott Latham represented the seller, Broad Street Development, in the deal.