Former Spanierman Gallery To Become Italian Menswear HQ
---
---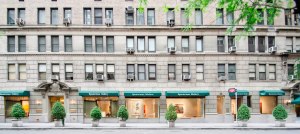 Caruso menswear is breaking into the U.S. market with a new shop at 45 East 58th Street, formerly the home of Spanierman Gallery.
The 10-year lease includes more than 11,000 square feet—9,185 on the ground level and 2,000 in the basement, according to Douglas Elliman's Faith Hope Consolo and Joseph Aquinno, who represented the tenant. The taking rent was $160 per square foot.
The store, between Madison and Park Avenues, will be Caruso's New York flagship and will house its showroom.
"This is truly elegant menswear, designed in Italy and created by the former C.E.O. and co-owner of Brioni," Ms. Consolo said in a prepared statement. "A New York debut in the heart of the Plaza District should be 'harmonious' for this Caruso on myriad levels."
Caruso's New York store will be opening this fall.
Mr. Aquino said: "The label caters to what it defines as the 'modern rich'. Launching a U.S. flagship near Barneys, Bergdorf and Bloomingdale's, where the fashion-conscious with means shop, inherently spells success."
Andrew Mandell and Jason Mauer of Ripco represented the landlord, 480 Park Avenue Corp. The duo didn't immediately respond to a request for comment.