Brooklyn Developers Offer Sage Advice at TerraCRG Summit
---
---
Residential developers will be keen to pick their projects wisely and not skimp on details if they wish to survive a Brooklyn market that's heating up quickly but could soon plateau, industry stalwarts said today at TerraCRG's The Brooklyn Real Estate Summit 2014.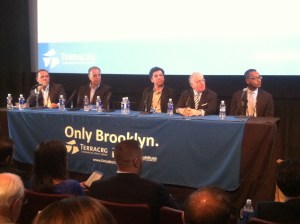 The residential developers offered their views and advice on the future of Brooklyn's commercial real estate landscape at the Brooklyn Academy of Music in Brooklyn, stressing the importance of a careful plan and high-end amenity package in commanding higher pricing and rents.
"The competition is very tough out there," said Douglas Patrick, a principal at Heatherwood, who sat on the "Brooklyn Unveiled" panel with a number of developers with up-and-coming residential projects across the borough. "Invest the extra money and you will get the return on your investment."
Heatherwood developed 568 Union in Williamsburg, which features a concierge, fitness center, roof terrace, parking and outdoor pool, much like the other projects discussed.
Panelists noted that Brooklyn is no longer just a value play for those moving into the neighborhood. The borough has some of the best schools in the city and more people working in Manhattan are living in Brooklyn, meaning that neighborhoods with the best access to transportation (and waterfront access) have been among the quickest to evolve.
"People want to be here because of the lifestyle, not just because it's cheaper," said Mitchell Hochberg, president of The Lightstone Group, which is developing a huge, 700-unit rental development in Gowanus.
Gowanus, Red Hook, Bushwick and Greenpoint were noted as the Brooklyn neighborhoods that are next in line to progress, with most panelists admitting that skyrocketing condo pricing is tough to refuse in the current market climate, especially as land prices skyrocket.
"We think the [condo] pricing will only come up over the coming years," Mr. Hochberg said, admitting that he is flirting with a potential condo component for the second phase of his Gowanus project.
But, he warned, "don't get intoxicated by the pricing you hear," noting that the diversity of neighborhoods across Brooklyn is on par with that seen throughout Manhattan, which creates a wide pricing range.
Like Mr. Hochberg, developers showed that they are approaching the market on a case-by-case basis and are not afraid to improvise both in terms of the type of housing they will offer and the strategies they will employ to make projects a reality.
Roger Fortune, vice president at Stahl Organization, which built Brooklyn's tallest residential building at 388 Bridge, said that project was originally planned as a condo building before previous financing fell through and the firm forged a new plan to implement 80/20 housing at the building's base. And Adam Popper, managing principal at Westbrook Partners, cautioned attendees against overpaying for land, especially by over-leveraging, noting that his firm never borrows more than 50 to 55 percent for a project.
It may be tempting to get caught up in the madness of a market as "people are running around and things are on fire and it's insane," said AJ Pires, a partner at Alloy. But like others on the panel, he cautioned that, while this may not be another bubble, the market is plateuing.
"It feels like 2005 a little bit," Mr. Fortune said. "My question is: will it be a hard or soft landing."
David Maundrell of aptsandlofts.com moderated the "Brooklyn Unveiled" panel.
388 Bridge
,
568 Union
,
AJ Pires
,
Brooklyn Academy of Music
,
Douglas Patrick
,
Heatherwood
,
Mitchell Hochberg
,
Roger Fortune
,
TerraCRG
,
The Brooklyn Real Estate Summit 2014
,
The Lightstone Group
,
Westbrook Partners