Asking Rents Reduced at 1 World Trade Center
---
---
The Durst Organization and the Port Authority of New York and New Jersey are reducing asking rents at 1 World Trade Center by nearly 10 percent, according to a report by The Wall Street Journal. Asking rent for larger tenants on the building's middle floors now stands at $69 per square foot, down from $75 per square foot.
The tower's owner has struggled to attract private tenants to the development. Publisher Conde Nast's 1-million-square-foot deal signed in 2011 remains the only major lease done at 1 World Trade Center. The building is 55 percent leased.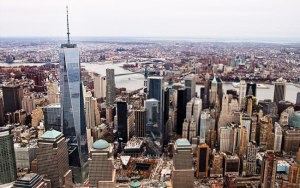 "The market's not there," Douglas Durst, the chairman of The Durst Organization, told the Journal last week. "When we started in 2011, everybody expected the economy to take off, and obviously that hasn't happened."
Mr. Durst said 1 World Trade Center has struggled to compete against other buildings downtown, such as Brookfield Place, where deals are being done in the $50s per square foot, according to the Journal. Last week, Time Inc. announced it had signed a 700,000-square-foot lease at Brookfield Place and will relocate there from Midtown next year.
"We have a lot of people looking at the space, but because of the asking rent, we are not able to really put anything over the finish line," Mr. Durst said.
Last week, The New York Post reported Hugo Boss was in negotiations to take tens of thousands of square feet of office space at 1 World Trade Center but a source told Commercial Observer that a deal with the company is "not happening anytime soon."