Ad Agency KiDS Signs 1 World Trade Center Lease
---
---
KiDS Creative has signed a 15-year lease for the entire 34,775-square-foot 87th floor of 1 World Trade Center. The ad agency's deal is the first new lease at the downtown tower for nearly three years.
"KiDS and 1 World Trade Center make a perfect match," said Eric Engelhardt, the director of leasing at 1 World Trade Center for The Durst Organization, in a prepared statement. "KiDS is destined to a bright future at the top of 1 World Trade Center, the world's most prestigious business address."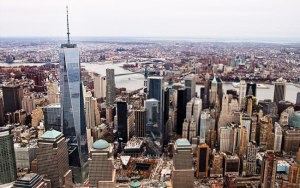 The tenant will pay rent of over $90 per square foot, according to The New York Post.
KiDS, a division of Box Studios, offers advertising and brand strategy services. The company's client roster includes Balenciaga, Alexander McQueen, Alexander Wang, Lancôme and RCA. The full-floor space at 1 World Trade Center is expected to house both KiDS and the photography and film departments of Box Studios.
"KiDS is about keeping an open mind, breaking free from the past to create something new and exciting, and that's exactly what 1 World Trade Center represents," said Pascal Dangin, the founder of KiDS, in a statement
Both Box Studios and KiDS are based at 412 West 14th Street.
The lease was announced on the heels of reports that landlord The Durst Organization has cut rents on the middle floors at 1 World Trade Center by 10 percent. "The market's not there," Douglas Durst, the chairman of The Durst Organization, told The Wall Street Journal last week.
Tara Stacom, Alan Stein, Justin Royce and James Searl of Cushman & Wakefield, and Jodi Pulice of JRT Realty represent the landlord at 1 WTC.