Why Did Sephora Cross the Road in East Midtown?
---
---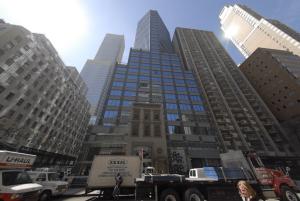 Come July 1, Sephora USA will be located across the street from its current East Midtown location at the base of Cohen Brothers Realty's headquarters at 750 Lexington Avenue, according to Christine Jorg of Crown Retail Services.
The cosmetics chain wanted more square footage on the ground floor than is available at its current digs, at 711 Lexington Avenue, she said, and the new space, at the corner of 60th Street, will allow the store to be confined to the ground floor rather than be spread out over the entire building as is currently the case.
Ms. Jorg wouldn't disclose any information on the new rents, but sources previously told the New York Post that the deal was signed at $700 per foot. Sephora inked a deal for the 7,000-square-foot space, formerly occupied by Levi's, less than a year ago, Ms. Jorg said.
The building at 711 Lexington—with 3,750 square feeet on the lower level, 3,750 square feet on the ground floor, 1,375 feet on the second floor and 2,000 on the third floor—has been on the market for five months, with signage unveiled about a month ago, Ms. Jorg said, who wouldn't reveal even the asking rents. Sephora has been at the location since 2006, according to CoStar Group.
Virginia Pittarelli of Crown represented Sephora in the 750 Lexington transaction, the Post reported, and David Nevins of Cohen Brothers represented the building. A request to speak to Ms. Pittarelli was forwarded to Ms. Jorg and Mr. Nevins referred a request for information to Charles Cohen, president and CEO of the firm, who was unavailable to provide a comment.