NoHo's 22 Bond Finally Evolving into a Condo
---
---
The building at 22 Bond Street has long been in the remaking, but an end—as a condominium—appears in sight.
The developers are "in the process of transitioning from a hotel project to residential," said Gregory Atkins, project executive at Second Development Services. The firm is developing the six-unit condo, also known as 25 Great Jones Street since it extends through the block, along with Richport Group. "We're just working out kinks."
SDS and Richport are finalizing construction documents, including a safety plan, for submission to the Department of Buildings and are working on clearing two stop-work orders, one for an inactive hoist from the old project and the other for a piece of wood that blew off the site, Mr. Atkins said.
Following an end-of-year approval from the city's Landmarks Preservation Commission and a February thumbs-up from the Board of Standards and Appeals, the project just needs permission from DOB to proceed. Demolition is required to remove a structure on the Bond Street side as well as a partial demolition on the top of the existing structure. Mr. Atkins said he hopes construction will be complete within a year. A lis pendens, or written notice that a lawsuit has been filed concerning the property, was filed on April 10, PropertyShark indicates. Mr. Atkins said it appears related to a vendor from an old owner.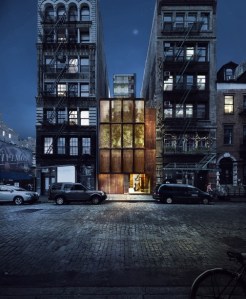 BKSK Architects designed the exterior and TKA Studio is designing the interiors. The façade will be made of glass and Corten steel, or weathering steel, the same material that was used for the exterior of Barclays Center. The Lafayette-facing side will be painted with a huge abstract mural by artist José Parlá.
All of the units in the 11-story condo are duplexes and they range in size from 2,900 to 4,000 square feet, Mr. Atkins said. The two penthouse units will have small decks. The entrance to the building and lobby are on Bond Street. They lead to an outdoor garden space before entering  the actual building on Great Jones Street.
The lot, between the Bowery and Lafayette Street, was purchased in 2007 for $8.5 million and since then there have been a variety of different ownership partners, Mr. Atkins said. The project was under construction as a Smith-Miller + Hawkinson Architects-designed hotel pre-landmarking in 2007, but construction stalled during the poor economy.
Plans for a hotel were scrapped, Mr. Atkins said, because "it's a 25-foot lot so a hotel, as of right, was difficult financially to work."