Arbor Lends on Long-Stalled Commercial Condo Units in Hell's Kitchen
---
---
A little extra money never hurts when it comes to arrested development.
Arbor Commercial Mortgage has provided a $70.1 million loan to a group of borrowers for several long-planned commercial condominium units at 511 Ninth Avenue in Hell's Kitchen, Mortgage Observer is the first to report.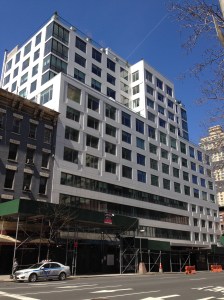 The loan from Arbor closed on March 19. The borrowers, listed in records as Salim Assa, founder of Assa Properties, the Chetrit Group's Meyer Chetrit and Read Property Group's Robert Wolf, are getting ready to finish construction on the postponed hotel and luxury condo property.
Assa purchased the site between West 38th and 39th Streets in 2006 and began selling residential condo units there in advance for between $700,000 and $4 million in 2009. The Chetrit family and Mr. Wolf made a $15 million investment in the $150 million project in 2012, according to previous reports.
The 12-story hotel and condo development, which is now under a partial stop-work order, has faced multiple delays since construction began in September 2007, data from the New York City Department of Buildings show. A recent complaint was filed on March 26. While the building's exterior is in place, construction on the inside is still underway.
The completed development will reportedly contain a 99-room hotel and more than 100 condominium units, six of them for commercial purposes.
A spokesperson for Arbor Commercial Mortgage declined to comment. Assa Properties and the Chetrit Group did not return calls for comment in time for publication.