100 Percent Organic Produce Market Coming to West Village
---
---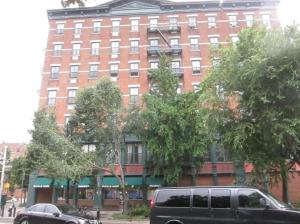 All-natural grocery store Mrs. Green's Natural Market will be opening its first Manhattan location at 585 Hudson Street in the West Village this June.
Westchester-based Mrs. Green's Natural Market specializes in 100 percent organic produce, sells gluten-free bakery items and has a full service deli, meat and seafood departments and even locally produced products.
"Mrs. Green's believes in providing its customers with good food that's good for them," said Robin Michel, CEO of Mrs. Green's Natural Market, in a prepared statement. "We are a neighborhood store and thrilled to bring our passion for good, healthy, quality food to the West Village neighborhood."
The retail space between Bank and Bethune Streets and vacated by a Duane Reade upon the expiration of its lease, is 15,550 square feet, said Joe Mastromonaco of The Dartmouth Company, who exclusively represents Mrs. Green's. The ground floor is 6,800 square feet and the lower level is 8,750 square feet, he said.
The lease was signed in September and is for 20 years. The asking rent was $2 million a year. The brokers representing the landlord, the co-op board at 585 Hudson, were Robin Abrams and Susan Teplitz of The Lansco Corporation.
"This is the right trade area for them," Mr. Mastromonaco said, noting that it can be a far distance for residents to shop at Whole Foods. "It's difficult to go to Tribeca or Union Square to get to Whole Foods," he said.
Also, he said the location will draw the "upscale, wealthy, active, health conscious customer of the West Village."
Mrs. Green's currently operates 18 stores in the tri-state area, including recent store openings in New Canaan, Conn. and Princeton, N.J., and 23 stores across the United States and Canada. Mrs. Green's hopes to open more stores in Manhattan, Mr. Mastromonaco said.