"Have it your way" might be what HFF brokers said when Jaylor Services secured a $65 million, ten-year, fixed-rate, non-recourse loan for a slew of Burger King properties across the nation.
HFF represented the borrowers, a management company that operates single-tenant restaurant companies, according to a statement from HFF.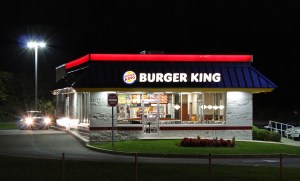 Senior Managing Director Mark West and Managing Director Brandon Chavoya secured the loan through Ladder Capital for a portfolio of 99 Burger Kings across six southern states, the statement said. 
Messrs. West and Chavoya were not available for comment; Ladder Capital declined to comment on the transaction.
All properties are leased to an affiliate of Strategic Restaurants, a subsidiary of Cerberus Capital Management, the statement said.
Jaylor leases restaurants on an "absolute net basis," meaning all costs are passed on to tenants.