The Plan: 250 Vesey Street
---
---
Last year, Brookfield Office Properties signed about 580,000 square feet of tenants at 250 Vesey Street, which is part of Brookfield Place. This is a data point that Brookfield is very proud of, said Matt Cherry, the company's director of investor relations and communications. One of the contributing factors to the leasing success was that Brookfield built out its 140,000-square-foot corporate offices on the 14th and 15th floors of the lower Manhattan building, under the guidance of interior design firm LSM, and has been able to showcase the space to prospective tenants. The 12th floor, which will house back-office functions, is being built out now. Opened in Jan. 2013, Brookfield's corporate offices are home to 400 employees. The main feature of the space is the lack of individual workspaces. "What we found, not only within our space here, but as a continuing trend within the industry—as individual workspaces are shrinking, the collaborative or common spaces are really increasing," Mr. Cherry said. Below, he discussed the layout of Brookfield's offices.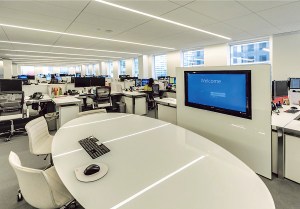 There are no individual offices. All of the workstations, which flank the exterior of the floors, are uniform irrespective of a person's role at the company. But there are interior breakout rooms and offices where people can hold a meeting or have a private phone call. "In lieu of having the offices," Mr. Cherry said, "that comes in handy."
The 15th floor reception lobby is a sparsely decorated 2,000-square-foot space. "In our premier office spaces we design them in this grand fashion," Mr. Cherry said. He described it as an "expansive space [with] plenty of room [and] plenty of light."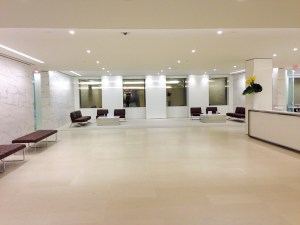 In addition to acting as the seating area for "pizza Fridays," employees will often bring their laptop to the social café and use it as a workstation. The whole office is Wi-Fi-enabled. Mr. Cherry noted that the social café is a great example of common space.
An internal staircase connects floors 14 and 15, with a little kitchenette behind it on the 14th floor. "It's a nice little centerpiece," Mr. Cherry said.